Hi sweet moms! We are consistently developing a list of books and resources we have either reviewed or know and trust the author(s) and consider to be great resources to help you in your mom journey.
These are some we not only approve – but love: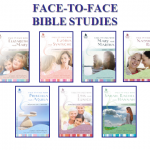 Title: Face-To-Face Small Group Resources
Author: Janet Thompson
Janet has written seven studies exploring Biblical relationships. Each of these studies have 5 sessions of 5 day studies for individuals, M&M's, (Mentors & Mentees, Friends, Family) or Groups. A Leaders Guide is provided for Group Study Facilitators and M&M's, with complete and detailed Session Guides.
Each day's study includes:
Scriptures and questions for you to study and answer
Face-to-Face Reflections – a discussion of the day's topic
Personal Parable – a story depicting and applying the days topic
Mentoring Moment – takeaway wisdom for the day
At the end of each of the 5 sessions there is:
Faith in Action – an opportunity for life application of the lessons learned
Let's Pray Together – my prayer of agreement with you
Following session five are Closing Materials:
Let's Pray a Closing Prayer Together
Janet's Suggestions – ideas for further study
A Leader's Guide for Group-Study Facilitators and M&M's
A Detailed Session Guide
Prayer & Praise Journal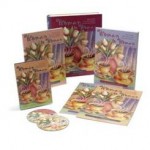 Title: Woman to Woman Mentoring Resources
Author: Janet Thompson
Author and speaker Janet Thompson is the founder of 'Woman to Woman Mentoring' started at Saddleback Church in 1995 and duplicated in churches around the world through a unique and detailed resource she wrote to help other churches enjoy the blessing of a Women's Mentoring Ministry.
Woman to Woman Mentoring – DVD Leader Kit - How to Start, Grow, and Maintain A Mentoring Ministry Resources
Includes one copy of Ministry Coordinators Guide, Training Leaders Guide, Mentee Handbook, Mentor Handbook, plus a DVD featuring Leader Training, Promotion & Enlistment, and Author Segments. CD-ROM (w/reproducible materials & promotional/training materials. CD-ROM (w/authors testimony)
The Leader Kit provides all the information and resources necessary for beginning, growing, and maintaining a Women's Mentoring Ministry
Title: Dear God, Why Can't I Have a Baby? (A Companion Guide for Couples on the Infertility Journey)
Author: Janet Thompson
One in six couples struggle with infertility. Janet and two of her daughters know that heartache, and God answered each of their pleas in different ways. They will tell their stories along with numerous mothers and dads in-waiting. Like Dear God, They Say It's Cancer this new book will be a mentor, a record keeper, a journal, a devotional, a prayer guide, and a friend.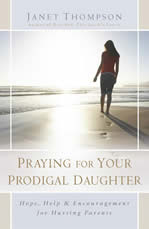 Title: Praying for Your Prodigal Daughter
Author: Janet Thompson
In her book Praying for Your Prodigal Daughter, Janet mentors parents from her own experience as a prodigal daughter and having a prodigal daughter.  Janet and her daughter Kim candidly share their own story along with stories from other praying mothers and prodigal daughters.   But don't wait until you have a prodigal – learn principles in this book of how to pray proactivily for your daughter NOW.

Title: Dear God, They Say It's Cancer
Author: Janet Thompson
Mentoring occurs in all walks of our life as Christians–the good times and the bad. It is simply sharing those 'been there done that experiences and with God's help I made it through and you can too!' God never wastes a hurt and while tough times build our character, He usually puts someone going through a similar crisis in our path for us to encourage. Janet's book Dear God, They Say It's Cancer is a mentoring companion for the woman with Breast Cancer and is written from Janet's own journey through the dreaded disease.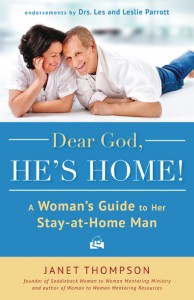 Title: Dear God, He's Home
Author: Janet Thompson
A BOOK FOR WOMEN whose husbands are home for whatever reason—layoffs, out-of-work, retirement, home office, illness/disability, or military deployment. Except for military deployment, my husband and I have experienced—and survived—each of these scenarios.
Each chapter has discussion questions for support groups or book clubs to use with a Leader's Guide included and Sanity Tools offer walk-along-beside you encouraging, and sometimes humorous, tips to help make this season of life of blessing and not a burden.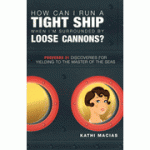 Title: How Can I Run a Tight Ship When I'm Surrounded by Loose Cannons? Proverbs 31 Discoveries for Yielding to he Master of the Seas
Author: Kathi Macias
In How Can I Run a Tight Ship When I'm Surrounded by Loose Cannons?, author Kathi Macias takes a humorous look at the Proverbs 31 woman, debunking the spiritual superwoman myth. Funny, yet serious in her approach, she uses the analogy of human development to her spiritual life (crawl, walk, run, fly, rest) as she encourages women to let go of perfection and trust the captain of our ship, God. Each chapter ends with a "Making it Personal" section with a few though provoking questions.
Title: Mothers of the Bible Speak to Mothers of Today
Author: Kathi Macias
Glean wisdom and encouragement from Bible moms! Introducing you to Eve, Sarah, Hannah, Salome, Mary, and other women of Scripture, Macias shows you that the concerns of their hearts mirror yours. Discover what they have to say about fear, discouragement, grief, and gratitude and learn from their examples of prayer, sacrifice, and faithfulness.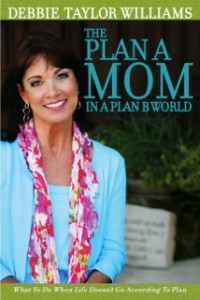 Title: The Plan A Mom in a Plan B World
Author: Debbie Taylor Williams
Williams, a national speaker and author, uses her conversational style to alert moms to parenting land mines and to encourage them to model Christ to their children. With discussion starters at the end of each chapter, this book is popular for small-group study. FEATURES:  Live Out Loud – Scripture study *  Love Out Loud – Discussion questions * Laugh Out Loud – Humorous stories * Mom stories from THELMA WELLS and others * 75 Pointers for a Sane Family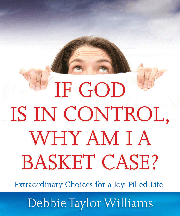 Title: If God Is In Control, Why Am I a Basket Case?
Author: Debbie Taylor Williams
An 8-week study exploring the book of Colossians. Covering topics such as anger, forgiveness, temptations, relationships, and family responsibilities. Fresh, practical advice guides women to turn basket-case moments into extraordinary moments that glorify Christ.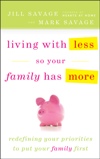 Title: Living with Less So Your Family Has More
Author: Jill and Mark Savage
In a society of "bigger is better," Jill and Mark Savage are countercultural in believing that living with less materially allows you to provide more for your family emotionally, relationally, and spiritually.
Jill and Mark provide an honest, straightforward approach on investing in the things that really matter, including:
- Creating a long-term vision for your family – Identifying the attitudes and actions to live your vision out – Practical action steps to help you make small and big changes, from organizing coupons effectively to changing a career path or downsizing to a smaller home
Whether your goal is allowing parents to cut back work hours and stress, making it possible for one parent to stay home full-time, or simply making more time in the day for family, this book helps you redefine your priorities in order to keep family first. Discussion questions at the end of each chapter give a perfect conversation jumpstart for couples desiring to read this book together.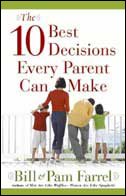 Title: 10 Best Decisions Every Parent Can Make
Authors: Bill & Pam Farrel
One of the greatest desires parents have is to prepare their children to transition successfully into adult life. In this book Bill & Pam share tips and techniques from nearly 18 years of parenting that will build your children's confidence as you help them discover the unique gifts God put inside them. (Education, Relationship and Driving Contracts are in this book.) Harvest House Publishers
Authors: Pam Farrel & Jill Savage
Time Tested Answers for Moms of Teens and Tweens Perfect for the busy mother of tweens, teens and college age students – packed with practical resources.This books contains helpful information on how to: motivate teens; resources for helping them with decisions on education, guy- girl relationships, after high school options (college/career), growing with God, people and financial skills, with a special section on teens in pain or prodigals. Harvest House Publishers 
TItle: 5 Love Languages of Children
Authors: Gary Chapman, Ross Campbell
Primary love languages begin to take shape at an early age in children—but the need to feel loved begins and grows right away. With Dr. Ross Campbell's expertise in child development, Dr. Gary Chapman applies his love languages concept to children. Learn to strengthen the bond you and your children share by speaking their language.
In the same tradition as Raising a Modern-Day Knight, this book is designed to equip parents to cultivate strong relationships with their adolescents. Raising a Modern-Day Princess stresses the importance of creating a rite of passage for teen girls—a defining moment in which girls can be blessed by significant adults in their lives, and a call for their families and communities to celebrate and support them as they enter womanhood. This book offers practical help in raising a generation of women to see themselves as God sees them—as daughters of the King. (Focus On The Family/Tyndale Publishers)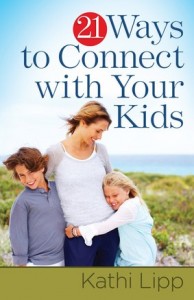 Title: 21 Ways to Connect With Your Kids
Author: Kathi Lipp
Parents spend a good chunk of time making sure their kids are okay–they're getting good grades, doing their chores, and doing just enough cleaning that their rooms won't be condemned if the Board of Health happens to drop by. 21 Ways to Connect with Your Kids offers a straightforward, workable plan to create new avenues of connection between parents and their kids. This handy guide coaches moms and dads to do one simple thing each day for three weeks to connect with their kids. Daily connection ideas include:
planning a family fun night
telling your child what you like about them
developing a character growth chart
writing a love note to your child
working together on a family project
Written in Kathi's warm and compassionate but thought-provoking tone, this book will motivate parents to incorporate great relationship habits into their daily lives and give them confidence that they can connect with their kids even in the midst of busy schedules.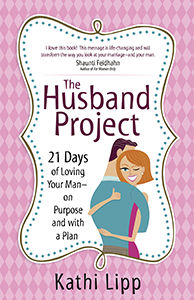 Title: The Husband Project
Author: Kathi Lipp
Keeping a marriage healthy is all about the details–the daily actions and interactions in which husbands and wives lift each other up and offer support, encouragement, and love. InThe Husband Project women will discover fun and creative ways to bring back that lovin' feeling and remind their husbands–and themselves–why they married in the first place.
Using the sense of humor that draws thousands of women a year to hear her speak, Kathi Lipp shows wives through simple daily action plans how they can bring the fun back into their relationship even amidst their busy schedules.
The Husband Project is an indispensable resource for the wife who desires to…
discover the unique plan God has for her marriage and her role as a wife
create a plan to love her husband "on purpose"
support and encourage other wives who want to make their marriage a priority
experience release from the guilt of "not being enough"
The Husband Project is for every woman who desires to bring more joy into her marriage but just needs a little help setting a plan into action.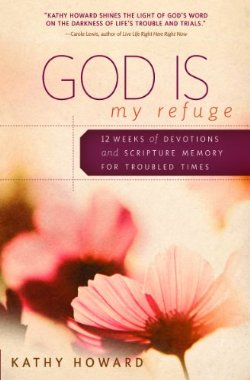 Title: God Is My Refuge
Author: Kathy Howard
This 12-week devotional book guides women to discover,  understand, and apply the "ever-present help in trouble" that only God can give.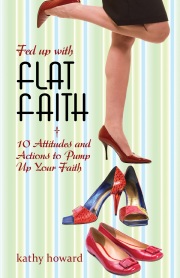 Title: Fed Up with Flat Faith
Author: Kathy Howard
Does your faith feel tired and dry? Do you lack a sense of real connection with God? This book gives you practical steps for following God out of flat faith to a place where He can set your faith on fire.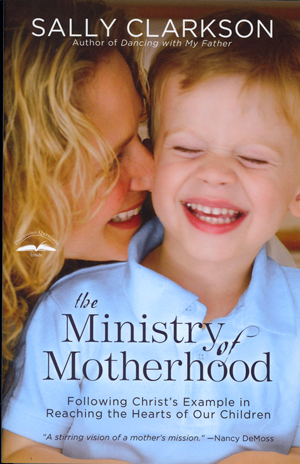 Title: The Ministry of Motherhood
Author: Sally Clarkson
Because Motherhood Isn't Just a Job. It's a Calling.
A mother's day is packed with a multitude of tasks that require energy and time: preparing meals, washing clothes, straightening and cleaning the house, and caring for children. These jobs all are necessary and crucially important. But in the dailyness of providing for a child' s physical, emotional, and social needs, vital opportunities for spiritual nurture and training can be overlooked.
This doesn't have to be the case. You can focus your energy on what matters most. Learn how you can:
• Make Life's Mundane and Nitty-Gritty Moments Work for You and Not Against You.
• Discover Ways to Make Character-Building a Natural Part of Live.
• Teach Your Child in the Same Way Jesus Taught the Disciples.
• Pass on Crucial Gifts that Will Serve Your Family for a Lifetime.Using biblical wisdom and practical teachings, Sally Clarkson shows how you can make a lasting difference in your child's life by following the pattern Christ set with his own disciples–a model that will inspire and equip you to intentionally embrace the rewarding, desperately needed, and immeasurably valuable Ministry of Motherhood.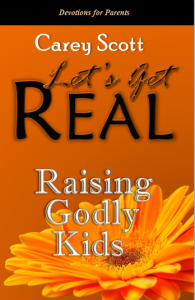 Title: Let's Get Real ~ Raising Godly Kids
Author: Carey Scott
Do you know what it takes to raise Godly kids? Anyone can be a parent, but being a Godly parent takes intentionality. Of all the people in the world, God chose you to raise your children. He trusts you to love them… teach them… and pray for them. The devotions in this book will help you in your journey to raise kids who love God and see Him in their everyday lives.
This resource is available in paperback and Kindle format, with NOOK formatting to be available shortly.