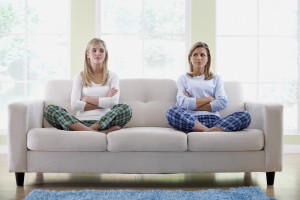 When my sons were young, I caught myself doing it over and over again. Saying NO without really thinking about what they were asking.
NO just seemed to slip from my lips before I thought it through.
I knew I needed to listen, think and then respond, but I just kept saying NO.
I had become a NO Mom.
Giving a knee-jerk NO to whatever they asked for was definitely not on the "Good Mom" list and I knew it was time to carefully consider my comebacks to their questions.
It's not that NO is always a bad thing. It's definitely a necessary part of parenting well.
"NO, you can't eat another candy bar."
"NO, you can't take the television apart so you can see how it works." (That really was a question my son asked!)
"NO, you can't stay over night at your friend's house when his parents aren't home."
But some NO's are definitely a NO-NO.
NO's like…
"NO, Momma doesn't have time."
"NO, we can't go out and play."
"NO, you can't help momma cook, I'm in a hurry."
NO Mom meant Grumpy Mom, Stick-in-the-Mud Mom, Uninterested Mom, Uncaring Mom.
That's not the kind of mom I wanted to be.
So I became one NO Mom who was bound to turn over a new leaf.
Things started to change around the Shott house and momma began to think before she spoke. For years, I was determined to parent with a purpose and to carefully consider what my kids were asking, so I could say what I meant, mean what I said, and have good reason for it.
But somewhere along the way the pendulum started swinging the opposite way. Perhaps it's because the teen years have a way of changing everything. Or maybe because it was easier to say YES. But I caught myself saying YES far too often.
I had to rethink what I had learned oh-so-many years before and begin implementing some of those early parenting principles and decided that I was going to become a YES Mom who said NO when necessary.
Life is hard and parenting isn't easy and a mother's role is ever-evolving. Mommas can find themselves feeling weary, worn out and overwhelmed and YES may be easier to say than NO because there is no conflict – no battle – no consequences to follow up with…just YES.
But YES isn't always a bad thing. In fact, YES also has the power to bring fun into the life of your family. Yes often means you're engaged with your kids and involved in their lives.
"YES, Mommy will play with you!"
"YES, we can go to the beach!"
"YES, we can make a birdhouse together!"
Saying YES and NO prayerfully, carefully and wisely is the key to parenting on purpose.
So, how do you know if you're a YES Mom or a No Mom?
1. You know you're a NO Mom when you say NO before even thinking about what your child asked.
2. You know you're a NO Mom when your children tell you that you never have any fun with them or never let them do anything.
3. You know you're a NO Mom when you think you can make them become wise adults by just doing what you say.
4. You know you're a YES Mom when you're willing to play in the rain, make a tent in your living room and make Mickey Mouse pancakes with your kids.
5. You know you're a YES Mom when you want your children to learn to not just do what you say, but think things through for themselves.
6. You know you're a YES Mom when you're willing to explain why you have to say NO so your children can understand that your purpose for saying NO is because you love them and is for their good.
Parenting can be very messy. There are no pat answers to every situation. But a momma can't go wrong when she determines to be a YES Mom who says NO when it's necessary and is willing to help her children understand why.
So, how about you? Are you a YES Mom or a NO Mom? Have you caught yourself saying NO without really considering why? Do you say YES too much because you don't want to deal with the conflict of NO?