I am not the perfect mom.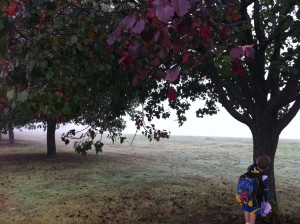 I love my husband and my kids, but I mess-up–often. Some days I make lots of mistakes–other days I do better. However I will never be perfect–not this side of heaven.
Sometimes I pick-up every mistake I make, but my burden is heavy. It whispers to my heart. You will never do this right. You are messing up your children. You are a bad mother. You will never be enough.
My heart convulses as I lose myself in the lies my burden feeds me. I lose my joy in fear. My strength evaporates in the face of guilt. A dark chasm threatens to swallow me whole. "I will never be enough," I say to myself. "I will never….."
The truth hits me square in the face. No, I will never be enough. Helping make a man or woman out of a helpless baby is more than I can do. Building character and encouraging faith is beyond me. No I will never be enough, but Christ in me is enough. "I can do everything through [Christ] who strengthens me." (Philippians 4:13) Jesus even said, "…apart from Me, you can do nothing." (John 15:5b) It is the Holy Spirit that empowers me to mother well.
When I remember Christ enables me my mistakes do not condemn me, instead they remind me of the truth. No I am not the perfect mother, but Christ is in me and He can do all kinds of things through me and despite me.
More than that God "gently leads those that have young." (Isaiah 40:11) He knows mothering is beyond us and He gently guides us so we can make wise choices for our kids. Moms let us remember God's "yoke is easy and His burden is light." (Matthew 11:28-30)
He never intended us to carry our mistakes and guilt around. He tells us "there is now no condemnation for those who are in Christ Jesus." (Romans 8:1) We only need to lay our mommy guilt down at the foot of the cross, accept Jesus' offer of forgiveness and give Him authority over our lives. Then His Spirit can empower us to mother with wisdom, compassion, and grace.
We cannot be perfect, but He strengthens us, gently leads us, and forgives us. Since God who is perfect offers us forgiveness, don't you think it is time we forgive ourselves?
This week when you make mistakes instead of picking them up would you lay them down at the cross? Then ask God to forgive you and empower you to be the mom He created you to be.
If this mommy guilt or fear of failure speaks to you, you may also be interested in what Ann Voskamp shared this week for mothers who fear failure.