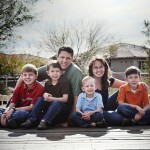 Acute Lymphoblastic Leukemia hit the Mayer family full force on September 26th, 2012.  Daniel, the youngest of four boys and only four years old, is in the battle for his life.
Submerged under the unrelenting vice of suffering, how does a mom walk this road with her family?
Here are some answers from his sweet momma Kelly:
 How did Leukemia impact your Mother's Day?
Leukemia really affected Mother's Day this year but in a fairly roundabout way.  I guess "strain" is the best way to say it.  Leukemia puts a big "strain" on everything and everyone.  Relationships within our family are deeply impacted by the reality of cancer so everything is a little bit off-kilter all the time.  On a day like Mother's Day which is "supposed to be" a light, fun time of rejoicing and celebration I think we all just felt blaaaahhhh.  Especially me.  Chad and the boys made some efforts to bless me and I made some efforts to do some things I enjoy, but overall the tone of the day was "strained".  Bummer.
What is the best encouragement others can give your family?
I find that the very best thing that is ALWAYS a huge encouragement is when people pray.  God takes people's prayers and answers them with so many blessings and HE always knows what we need.  He knows best how to tailor-fit our blessings for each day, so when people lift us up to His throne that is tremendously encouraging.  We also know that even though Daniel is doing well and his prognosis is good, we are fighting for his life in a world unavoidably crippled by sin and death.  That battle will only be won by prayer so my mother's heart feels strongly supported and deeply relieved when someone tells me they are praying for us.  Thank you!
 What scripture gives you the most strength?
I  spend a ton of time in Psalms 34.  I read it at least once pretty much every day and it is incredibly powerful in my struggle for sanity and strength.  "The Lord is close to the brokenhearted and saves those who are crushed in spirit.  I sought the Lord and he answered me; he delivered me from all my fears.  Fear the Lord, you his saints, for those who fear him lack nothing."  Ps. 34:18,4,9.  This is an incredible Psalm- not just about the Lord's tender compassion for me in my brokenness- but also about His powerful ability to rescue me when I am threatened: "The angel of the Lord" – the LORD Himself – "encamps around those who fear him, and he delivers them."  Ps. 34:7   Jesus is my One Man Army – all by Himself he is encamped ALL around me and very simply put, "he delivers me" ~ because He loves me and He can!  I could go on and on for literally hours about all I have experienced of the Lord from Psalm 34 during this horrible season of life. (hummm…another post maybe?:))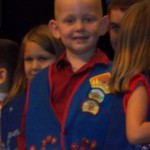 How can our readers at The Mom Initiative pray for you today?
Please, oh please pray for our family.  Our mighty God has incredible plans for our future and the enemy is trying to take it all away!  Chad, my husband, is actively studying for his Medical Board Exams on the path to becoming a doctor.  It is a very difficult stretch of his medical school journey, especially with all the intense needs at home.  The enemy is also hard after our boys.  There is a palpable spiritual battle raging in our home and it is evident in the hearts and minds of our children: strife, uncharacteristic disobedience, judgment, pride, sadness, and fear are just some of the things we are seeing in big doses as the battle rages.  And finally, please pray for our marriage!  If the enemy can destroy our marriage, he also gets: Chad's heart, my heart, the hearts of four Christian young men and our entire ministry.  He knows that it's a sweet package deal and evidently he wants it badly!!  Please pray that even as the thief comes to steal, kill and destroy, our family will be a place where the love and grace of God are poured out and experienced in abundance.
Kelly, what encouragement do you have for others in intense suffering?
Here is what I know for sure: God is 100% completely and totally in control.  He is bigger than cancer.  He is bigger than medical school.  He is bigger than the weight of raising up and homeschooling 4 boys.  He is bigger than the crucible of marriage pain.  And I know all of this because He has already proven that He is bigger than my sin.  He is in every way, in every detail, in every crushing moment- a God I can lean on.  He is the God I can trust.  Here is a poem I hope sustains you:
Lord?

By Kelly Mayer

I'm buried under crushing weight. Oh Lord, is this your plan?

I've served you well and done my best but now I just can't stand.

You've trusted Me before my child.  Don't let your heart faint here! 

I'm in control and you can trust that I am always near.

But Daniel is my baby boy! The apple of my eye . . .

My world will crumble all to dust if cancer takes his life.

Hold tight My child; and don't forget that you are My delight,

I'll never step away when you feel drowned in darkest night..

But Lord, my heart is breaking from exhaustion, anger, fear . . .

I'm overcome by grief and pain like never once before.

Come, dear one, trust Me! All is well. Find rest here in My arms . . .

 I'll dry your tears and hold you close, secure from all alarms.

Lord, many people love us but then some are harsh and cruel

I've trusted them and been betrayed.  I feel like such a fool!

This happens yes, I know your pain for they abused Me too.

Just lift your eyes to Me and I will fill you with the truth.

Now let your questions fade away, just wait here and be still.

There's never any danger in the middle of My will.

My plan is for your good not harm; the end will make you smile.

So lay your head upon My chest and rest your heart awhile.

My Jesus I do trust you but I'm weary, weak and dry.

I'm broken up and torn inside; sometimes I want to die.

Not yet, My Love I'm still not done refining your sweet heart.

I'll mend you child and through these trials, make you a Work of Art.
 Stop by and let Kelly, Daniel and family know you are praying- post a word of encouragement on their Facebook page today!
Are you walking the road of intense suffering? Leave a comment and allow us to pray for you.
Visit Tara on her blog or Facebook page.
IF YOU LIKE THIS POST, OR IF IT HAS ENCOURAGED YOU, PLEASE SHARE
---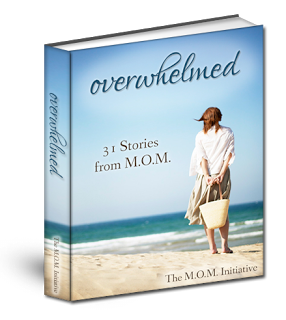 SUBSCRIBE to receive your FREE copy of Overwhelmed today!
AND/OR
SIGN UP to BEGIN a M.O.M. Initiative Mentor Group in your area! You will also receive a FREE copy of Overwhelmed and as a ministry tool, please feel free to make as many copies as you need.
_________________________________________________________________________________