MOM Team Resources
We know you know and love the precious women God has given you the privilege of serving! And we know that every MOM Group is unique.
That's why there are no cookie-cutter programs with The MOM Initiative.
You have the freedom to use the resources you know will be the best fit for your MOM Group. Our staff is also available to help you in anyway we can. Consultations are FREE.
Many MOM Group leaders ask us what resources we recommend and what resources to begin with, so we put together a list of some of the resources available from the MOM Team Writers that are biblically solid, practical, and a great fit for your MOM Group.
The Making of a Mom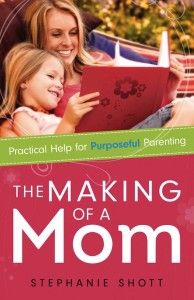 The Making of a Mom is The MOM Initiative's PRIMARY ALL-IN-ONE RESOURCE to offer REAL HELP for REAL MOMS while also serving as HANDS ON RESOURCE for the CHURCH, for MINISTRY LEADERS, and for SMALL GROUP LEADERS. The Making of a Mom is for moms of ALL AGES and STAGES of MOTHERHOOD and is chock full of practical advice and helps moms become the moms they long to be. With a leaders guide in back and questions at the end of each chapter, The Making of a Mom contains everything the local church, ministry leaders and small group leaders need to make mentoring easy and missional.
Intentionally written as an in-reach and an outreach resource, The Making of a Mom also includes venue specific Planning Guides in the back to help local churches reach moms beyond their four walls.
The Making of a Mom answers the three questions almost every mentor, ministry leader, and small group leader asks…
1. What will I say? (The questions at the end of each chapter serve as a catalyst for conversation.)
2. What will I do? (The venue-specific planning guides in the back of the book provide the tools to mentor moms in your church, your home, and in your community.)
3. What will I use? (The Making of a Mom is a dual-purpose book to reach moms who don't know Christ and minister to the ones who already know Him.)
If you're a mom, this is a MUST READ! If you're a ministry leader or small group leader, this is the resource you've been waiting for!
The Making of a Mom was not only written so moms wouldn't feel alone, but as a resource for the church so they wouldn't have to be.
---
Searching for Sanity
Have you ever looked at your beloved children and wondered: What in the world am I doing? Why did God trust me of all people to raise them? Motherhood is the most difficult job many of us will ever take. Moms today are busy, overwhelmed and stressed. Many feel underqualified.
Searching for Sanity offers moms an opportunity to take a breath, dig into the Word, and learn from parents of the past. In short devotions designed for busy moms, this book explores the parents of the Bible both the good and the bad. Some of the parents within the pages of God's Word set great examples for us to follow; others made huge mistakes. In Searching for Sanity, you'll learn from both
Magnetic
Does your teen girl ever wonder…
What does she have that I haven't got?
Why doesn't he ask me out?
What makes her popular? Why not me?
Maybe it's time to help her change the questions she's asking. Maybe it's time she asked instead: What does it take to become magnetic? Packed with revealing quizzes, interviews with guys, and practical tools, Magnetic, by Lynn Cowell, empowers your girl to:
Move beyond negative thoughts, capricious emotions, and others' opinions as you gain unshakeable confidence.
Limit the draining affect of "girl drama" so you can invest your time in becoming the best you.
Replace the agonizing frustration of wanting to be noticed and liked with a deep assurance that you already are.
As she lives out nine amazing characteristics—known as the fruit of the Spirit—she will not only cultivate an inner and outer beauty, but she will also hold an irresistible appeal for godly guys. Help her shift her focus from a guy to the Guy and become the magnetic young woman God created her to be.
Finding Mommy Bliss
Being a happy mom isn't about sailing through motherhood. It's not about having it all together or having the best kids. Parenting can be chaotic, stressful, and complicated. There are temper tantrums and sibling squabbles. There is self-doubt and frustration, even fear and uncertainty. But there is also laughter and love . . . and, yes, even bliss.
Finding Mommy Bliss helps moms take steps toward the parental happiness that can sometimes be hiding at the bottom of the laundry pile. Filled with the humor, heartache, and humbling realizations that only parenting can bring, Finding Mommy Bliss makes for an encouraging, easy read for the busy mom who needs a few minutes of inspiration.
Fed Up With Flat Faith
Desperate. Tired. Flat. Dry. Do those words ring any bells? Do those words describe your faith when what you really want is a fiery, passionate, connected faith? You're not alone in your struggle with flat faith. What you need is to pump up your faith and let God create the roaring blaze you so desperately long for.
Fed Up with Flat Faith will equip you with five attitudes and five behaviors that prepare your heart and life for God's work. Author and teacher Kathy Howard shares practical and foundational spiritual truths and faith principles that will help shift your attitude and behavior so you are positioned for God's activity in your life, ready to receive what He has for you—a fiery faith.
The SuperMom Myth
"This book isn't about raising kids. It's about raising Moms. . ." says author Becky Kopitzke.
In a Pinterest-perfect culture, you've likely sensed an accelerated pressure to measure up. Then you either weigh yourself down with guilt or become resigned–desensitized, even–to this so-called failure.
The Supermom Myth – with humor and grace, yet all the while maintaining a firm grasp on reality–aims to empower you to become the mom God created you to be. With 8 chapters, each personifying a "dirty villain" of motherhood, including The Grouch on the Couch (Anger), Worry Woman (Fear), and The Calendar Queen (Busyness), Kopitzke offers a gentle reminder to rest in the super power of our grace-filled God.
Mean Mom's Guide to Raising Great Kids
"Mom, you re so mean!" Do you struggle to instill loving boundaries and become discouraged when your child doesn't like you for them? Let The Mean Mom's Guide inspire you – because a mean mom isn't always the mean you think it means.
The Mean Mom's Guide to Raising Great Kids encourages overly nice "marshmallow" moms to instill a few much-needed boundaries and it motivates parents to stand their ground when childrearing is tough.
Covering parenting from preschool to high school, each of the four sections highlights topics specific to each age. Scripture is weaved throughout as a continual reminder of God's truth, and "Mom 2 Mom" quotes at the end of each chapter are filled with heartfelt transparency from dozens of moms who lent their own experiences.
Mothering from Scratch
Most parenting books present a cookie-cutter approach–which may or may not apply to all personalities and family dynamics. Mothering From Scratch shows mothers how to develop their own style that helps them be the best mom for their kids and restores the joy of mothering.
Full of solid biblical truth, this book encourages moms to…
explore their personalities and examine their strengths and weaknesses in order to find what works for them
tap into the resources surrounding them and get mentoring and support from other moms
push past the fear of change or doing it wrong and allow room for grace in their mothering
Melinda Means and Kathleen Helgemo provide a flexible, customizable approach to help moms discover their optimal parenting style.
Expectant
As her body, schedule, and relationships change, a mom-to-be craves more than just chocolate.
With forty devotions offering truth and practical wisdom from transforming your heart as you grow into a mom to discovering insight to navigate your relationships, Expectant delivers many levels of inspiration. Questions are also included to help guide conversations with a partner or a small group. So prepare to be the mom you want to be as you focus on your baby, yourself, other grown-ups, and your new normal, and be encouraged through your relationships with others as you continue on your path to parenthood.
Praying for Your Prodigal Daughter
Offering hope, help, and encouragement to hurting parents of prodigal daughters, author Janet Thompson shares out of her own experience as a prodigal daughter and as the mother of a prodigal daughter. And the key to the help she offers is prayer.
While you, as a hurting mom or dad, may know that you need to pray for your daughter, this walk-along-beside-you book will take you gently by the hand and show you how. In it you will find candid stories of other parents of prodigals — and even the stories of prodigals themselves.
Any parent will benefit from this book's incredible insights, prayers, and stories. Praying for Your Prodigal Daughter is about hope, help, and support from others who have walked a similar road.
Raising Little Kids with Big Love
Have full blown tantrums and high-pitched whiny voices made their way into your home? Do you feel a little frustrated or wonder what happened to your precious baby bundle and your patience?
When parenting little ones, big love is needed. Raising Little Kids with Big Love reveals fifteen qualities of love. Discover how to:
increase your child's self-worth by demonstrating patience
act in kindness to build family unity
foster sibling relationship rather than sibling rivalry
control your anger and effectively deal with tantrums
be your child's advocate in the school setting
support your gifted or special needs child
build a relationship with your kids that will last a lifetime.
Plan A Mom in a Plan Be World
We live in a Plan B World, not the Plan A Garden of Eden God created. In our Plan B world, we experience parenting challenges in the form of illness, accidents, or simply the clash of wills. Divorce, single parenting, and sibling rivalry add to parenting challenges.
In the mix of homework, sports events, meals, bedtime, church, and other activities, we and our children can become stressed and irritable. Even the best mommy can feel drained, over her head, and do what she never thought she'd do: "lose it" with her kids.
In her book, Plan A Mom in a Plan B World, Debbie Taylor Williams teaches us that no matter what your Plan B looks like, you don't have to discard being a Plan A mom