It's too late.  If you haven't finished Christmas shopping for your husband, your time is up. Oh, you could fight the crowds, pray for a parking spot, wait in line, and buy him … a bag of jerky, but that's not really what he wants.
On Christmas day, a mom can give her main man what he wants most:  her respect. Christmas can become so focused on the children that a dad can feel like a toy dancing Santa … fun at first, but then only good to be put in a corner and ignored. Add in some holiday-inspired sarcasm from the love of his life, and he might feel like he belongs on the Island of Misfit Toys.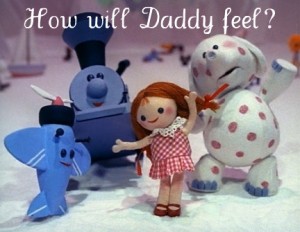 Moms long to make the holidays magical and meaningful, the crowning glory of the family year. If an enthusiastic mama isn't careful, she may be so wrapped up in adding a "crown" to the family scrapbook that she fails to be the crown of her husband.
"An excellent wife is the crown of her husband, but she who brings shame is like rottenness in his bones" (Proverbs 12:4).
When mom respects dad, children follow.
A dad has the potential to simply become the last one out of bed, the guy who bags up the wrapping paper, the one who lights the fire, or the one who reads the verses.  But he has the potential to be treated as so much more than that, and he should be.
Train your children to "thank Daddy" for their gifts, so they see the earthly expression of James 1:17.
Serve Daddy first at your holiday meal, to honor him; engage your kids in serving him, too.
Verbalize what's in your heart, and let your kids hear: "I love to hear Daddy read the Christmas story."
Whatever your abundance, affirm your man with words: "Thank you for working so hard for our family."
Resist being preoccupied with preparations; stop and touch your man with a lingering hug or a kiss.
If we will give our husbands the gift of respect on Christmas day, our children will follow.
So there. You don't have to fight that crowd, parallel park, or decide between Teriyaki or Spicy Buffalo jerky.  You already have what will fill the heart of your husband with comfort and joy!
Is there a time in your Christmas day when your husband "shines?"
Now it's time to LINK UP & join the fun, meet new friends & make your message more available to others!
(Oh…and don't forget to grab our button and share the love!  )