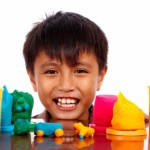 Out of playdough? No problem! Here is an easy, fun recipe the kids can help with! Make sure to keep this one handy!
1-cup salt, 2-cups flour, 2-cups water,

1/4-cup vegetable oil, 1-tablespoon cream of tartar
Place ingredients in pan, add your favorite food coloring, stir over low heat until dough is  not sticky,  looks and feels like playdough. Enjoy playing with your kids!
Isaiah 64:8  But now, O Lord, You are our Father, we are the clay, and You our potter; and all of us are the work of your hand.
Enjoy your weekend!