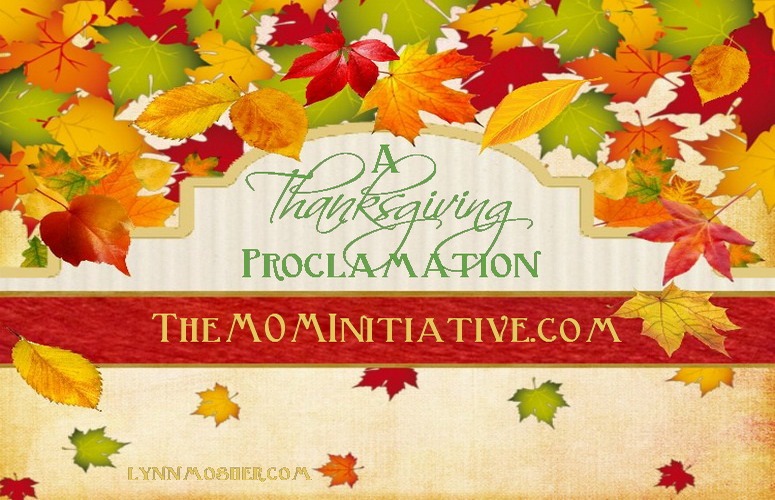 "In everything give thanks; for this is the will
of God in Christ Jesus for you."
Do we fail God's will of giving thanks, in every situation?
Remember the Grumbly Bunch in the wilderness? "God, why did you bring us out here? To die? In this wilderness? Where are we going? There's no food. No water. And we hate this manna!"
Uh-oh! According to the original Hebrew, Numbers 11:1 (Masoretic Text) tells us the people were evil for complaining and made God's anger glow. Therefore, He "sent a fire to rage among them, and he destroyed some of the people in the outskirts of the camp." (Num. 11:1b NLT)
Whoa! Don't want that happening. But they didn't learn from that lesson. For again, they complained and God "sent fiery serpents among the people, and they bit the people; and many of the people of Israel died." (Num. 21:6 NKJV)
God is definitely not enamored with complaining.
Through the words of His servants, He calls us to give Him gratitude, praise, and thanksgiving. Paul urges us to "give thanks for everything to God the Father in the name of our Lord Jesus Christ." (Eph. 5:20 NLT)
And David, always a thanks-giver, wrote, "I will honor him with thanksgiving." (Ps. 69:30b NLT)
Do we honor God with our gratitude?
Thanksgiving Day should be not only a commemorative day but a yearly reminder to be thankful the rest of the year…not just one day a year.
"So, what happens to our thanksgiving and praise when our peace disintegrates into chaos?
"As I go through trial after trial, circumstance after circumstance, what happens to my praise and thanksgiving? What happens when my day is darkened with a multitude of problems? Do I still sing to Him anyway? You bet! When my eyes spill over with the tears of heartache, do I still look to Him and praise Him? Absolutely! When chaos invades my world, do I still claim His peace and praise Him? Yes, indeedy! For "I will praise the Lord no matter what happens. I will constantly speak of His glories and grace." (Ps. 34:1 TLB)
"I have learned to transform my attitude into one of gratitude as Habakkuk did.
"In the closing words of his book, the prophet asserted his faith in God and promised to praise Him, even if all else failed. "Even though the fig trees have no blossoms, and there are no grapes on the vine; even though the olive crop fails, and the fields lie empty and barren; even though the flocks die in the fields, and the cattle barns are empty, yet I will rejoice in the LORD! I will be joyful in the God of my salvation." (Hab. 3:17-18 NLT)" (When Thanksgiving Gets Stuck in Your Throat)
We would also do well to remember the words of George Washington's proclamation of Thanksgiving…
"Whereas it is the duty of all nations to acknowledge the providence of Almighty God, to obey His will, to be grateful for His benefits, and humbly to implore His protection and favor…
"Now, therefore, I do recommend and assign Thursday, the 26th day of November next, to be devoted by the people of these States to the service of that great and glorious Being who is the beneficent author of all the good that was, that is, or that will be; that we may then all unite in rendering unto Him our sincere and humble thanks for His kind care and protection of the people of this country previous to their becoming a nation…
"And also that we may then unite in most humbly offering our prayers and supplications to the great Lord and Ruler of Nations and beseech Him to pardon our national and other transgressions…" (link)
Whether thanksgiving gets stuck in your throat, or it's through gritted teeth, or out of a heart of bitterness or anger, or out of a soul filled with chaos, or out of a life filled with grief, give the Lord that sacrifice. You love Him. Right? He loves you. Right? He has the best in mind for you. Right? He died for you. Right? Then, praise Him! Praise and thank Him with every fiber of your being.
"Let us come to him with thanksgiving.
Let us sing psalms of praise to him.
For the Lord is a great God,
a great King above all gods." (Ps. 95:2-3 NLT)
Lynn Mosher
lynnmosher.com
Lynn is the keeper of a secret recipe for barbecue sauce, which she may share if you bribe her with enough chocolate. She's a sock person and treasure hunts for God's golden nuggets along the road Home. She lives with her hubby (since 1966) in their Kentucky nest, emptied now of three kidlets and embracing three giggly grand-chicklets.

Lynn writes devotionals and inspirational stories. She has one book waiting to be published in 2015 and is working on a second one. Her greatest passion is to fulfill God's call on her life to encourage others and glorify the Lord with her writing. She currently writes for several sites and writes bi-weekly on her site, Heading Home. http://lynnmosher.com
Latest posts by Lynn Mosher (see all)