Lavish Grace is a brand new Bible study written by Kathy Howard, a member of the TMI team. We are the first to offer it online! Could this Bible study be for you? Ask yourself these questions:
Want to dig into God's Word this fall, but can't regularly get to a physical Bible study group?
Do you need the encouragement of friends to help you stick to a study?
Would you like a fresh awareness of God's grace for your daily life?
Do you struggle to be a person of grace in one or more of your relationships?
If you answered "yes" to one or more of these questions, then this study is for you!
Want to know more about "Lavish Grace?"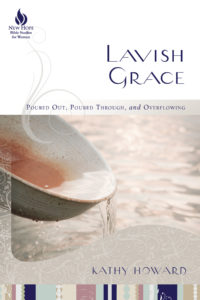 God's free-flowing river of grace runs through every area of our lives, yet sometimes we fail to jump in. Lavish Grace, a unique, study of Paul's experiences with and teachings about grace, will help you:
Recognize God's grace in your daily life
Extend God's grace to others in practical ways
Rely on and rest in God's grace in the inevitable difficult seasons of life
Get ready to embrace the abundant, grace-filled life God offers you every day! (Watch brief, promo video for Lavish Grace.)

How does "Lavish Grace" work and when will it begin?
The TMI online Bible study, which begins Monday, September 19 and continues through October 31, is designed with you in mind. We have built in four levels of involvement, so you can participate as much or as little as you are able.
Short blog lesson by one of the TMI team here on TMI each Monday, with some lessons containing a video lesson.
Deeper printable PDF lesson available in the Monday post
Go deeper still by purchasing and using the Lavish Grace Bible study book (Available now in print and ebook formats at Amazon, CBD, New Hope Publishers)
Join us throughout the week for ongoing discussion and practical application in the closed Facebook study group (Ask to join now!)
Any additional goodies?
TMI's very own culinary diva Beth Bergren is helping us spice up the Bible study with a "Let's Say Grace" recipe each Saturday! The recipe, which will include a printable PDF, will be delicious but also simple enough to make with your kids. The printable – which will include the recipe, a Scripture, and a prayer – can even be used as a quick family devotion.
LESSON 1: The What, When, and Why of Grace
LESSON 2: How to Use Your Words to Inflate Rather than Deflate
LESSON 3: Graceful Relationships – Acts of Love, Humility, and Selflessness
LESSON 4: Grace-full Witness
LESSON 5: Work of Grace
LESSON 6: Power of Grace
LESSON 7: Glory of Grace
INVITE YOUR FRIENDS TO WALK THROUGH THIS STUDY WITH YOU!
Share this post on Facebook, Twitter, or Pinterest. Then comment again to let us know you shared!
Kathy Howard calls herself a "confused southerner." Raised in Louisiana, she has moved with her engineer husband around the U.S. and Canada. She says "pop" instead of "Coke" and "you guys" as often as "ya'll." But she's still a southern girl at heart!
Kathy encourages women to live an unshakeable faith for life by standing firm on our rock-solid God no matter the circumstances. The author of six books, Kathy also has a Masters in Christian Education. She has taught the Bible for over 25 years and speaks regularly at women's events.
Kathy and her husband live in the Houston area. They have three children, two sons-in-law, and one grandson. Find out more and get discipleship tools and leader helps at her website: www.kathyhoward.org.
Latest posts by Kathy Howard (see all)