'Tis the season for supply lists. Unfortunately, the back to school supply list can really add up! More than one mom has approached her homeschool list or classroom list with excitement, only to walk away with a grown up case of test anxiety. As a teacher and a mom, I want to encourage you to keep a few things in mind, if your list has you stressed.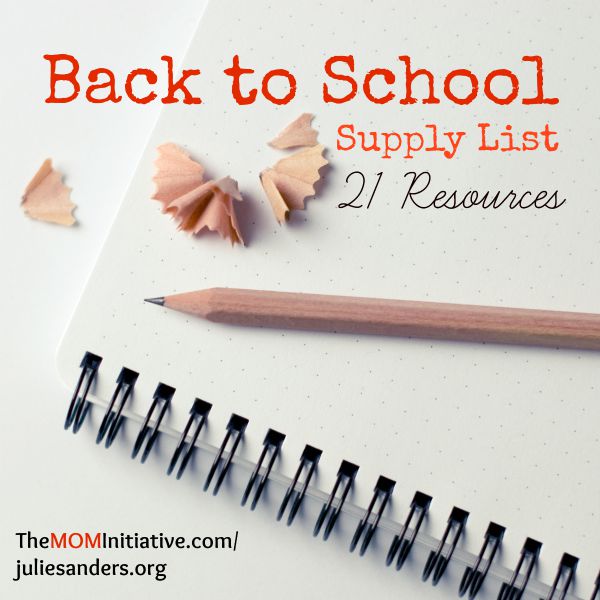 Your kids don't need to have the latest and greatest option out there (= most expensive)
If the list is long, prioritize what's needed most (= a key life "lesson" for all of us)
Your kids don't even have to be part of the choosing (= it's okay to give them their supplies)
If the list breaks your budget, let your teacher know you need to spread it out (= don't be proud)
Your kids should know the cost (= this is part of the learning)
If there's one item you can't find, don't let it drive your back-to-school mood (= wait 'til they restock)
When all is said and done, what students need to learn is a curious mind, opportunity to explore, and interaction about their discoveries. Moms, on the other hand, can use something NOT found on a back to school supply list: ENCOURAGEMENT and PRACTICAL IDEAS. So, here's a list of useful resources and inspiring posts just for YOU in the midst of the back to school season. The top is packed full of helps for prayer, because that's the foundation for a great school year!
Back to School PRAYER Supplies
Back to School Supply List for Mom
Supplies for Special Needs
Julie Sanders
and her husband just relocated from the land of sweet tea to the Inland Northwest. The mom of two college students, Julie loves mentoring women around the world, bringing justice to the vulnerable, and teaching God's truths for life. Julie was blessed when seasoned moms walked the marriage and motherhood journey with her and is grateful "grace abounded much more" (Rom. 5:20) than her failures. She is passionate about fighting human trafficking and is the author of Expectant: 40 Devotions for New and Expectant Moms. Join Julie at
Come Have a Peace
, on
Facebook
,
Twitter
, or
Pinterest
,
and don't miss
Marriage Mondays
. She invites you to
contact her about speaking
at your women's event or mommy meeting.
www.juliesanders.org
Latest posts by Julie Sanders (see all)