Venomous words came out of my small mouth without even thinking. When the church lady asked how I liked my new baby sister, I answered her with jealous words of a displaced youngest who was suddenly in the middle after 7 years. My mother's wounded glance awakened my prideful spirit as we walked to the car. Back home, she handed me the phone to apologize for my words. I apologized with my mouth, but my heart was angry. I felt far away from my changing family and from the God we had worshiped that morning at the church building. An unrepentant heart is a heart at war.
"What causes quarrels and what causes fights among you? Is it not this, that your passions are at war within you? … You ask and do not receive, because you ask wrongly, to spend it on your passions. You adulterous people! Do you not know that friendship with the world is enmity with God? Therefore whoever wishes to be a friend of the world makes himself an enemy of God. … But he gives more grace. Therefore it says, 'God opposes the proud, but gives grace to the humble.' Submit yourselves therefore to God. Resist the devil, and he will flee from you. Draw near to God, and he will draw near to you. Cleanse your hands, you sinners, and purify your hearts, you double-minded. Be wretched and mourn and weep. Let your laughter be turned to mourning and your joy to gloom. Humble yourselves before the Lord, and he will exalt you." (James 4:1-10 ESV)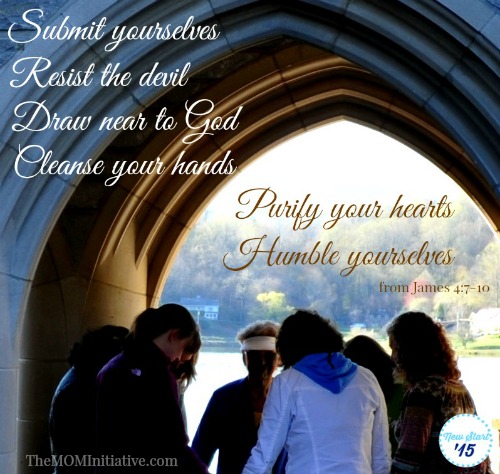 In raising children to be holy people, good outward behavior may please mom, but a holy heart pleases God. Every man and woman, boy and girl, since new Adam and Eve, has struggled with passions at war within us. We can not submit ourselves to God and embrace the ways of the world at the same time. Holiness is exclusive.
Step 1 to raising kids with holy hearts
Mom, do you long for your child to be a friend of God? Do you see the world wooing your child in friendship? Moms are at war for the hearts and minds of their children. God heaps on the grace, guiding through His word and His Spirit, calling us to first "draw near to God," so we can lead our children where we have first gone ourselves. Kids look to their parents' private lives to see if the faith we speak is the faith we live. Kids look for holy hearts. When a mom longs for holiness in her child, she first needs holiness in her own heart.
Are your hands clean?
Is your heart clean?
Do you mourn over your own sin?
Are you a humble mother?
Step 2 to raising kids with holy hearts
God-following moms must intentionally cultivate friendship between their child and God. We schedule play dates with buddies, arrange co-ops with friends, and make practices and play groups work. When it comes to becoming a friend of God, we need to invest in drawing our kids close to the God who reaches for them. Make room in your child's life for God to move in.
The Enemy works on a friendship with your child. Be encouraged, though, dear mom, because God promises to draw near to those who draw near to Him. Help your child get up close and personal with the holy God.
Without even thinking, our children will spew sinful words and display selfish actions out of their human nature. We can discipline them into submission and control their behavior, but let's not settle for such a shallow success. Let's hold out for their holy hearts. Let's cleanse our hearts and do battle for theirs!
Today begins Week #3 of the New Start 15! If you're following along in this January journey of growing more godly, this is going to be a great week of looking at practical holiness. If you haven't started, get your copy of the New Start 15 Reading PLAN and check out the Resource List to join in. You can also follow our Pinterest Board and our New Start 15 Facebook group.
The MOM Initiative is so excited to share with you that The Making of a Mom ebook is on sale for only $1.99 from January 15th – 21st!
GET a COPY for YOURSELF, YOUR DAUGHTER, SISTER, FRIEND, MENTOR, MENTEES!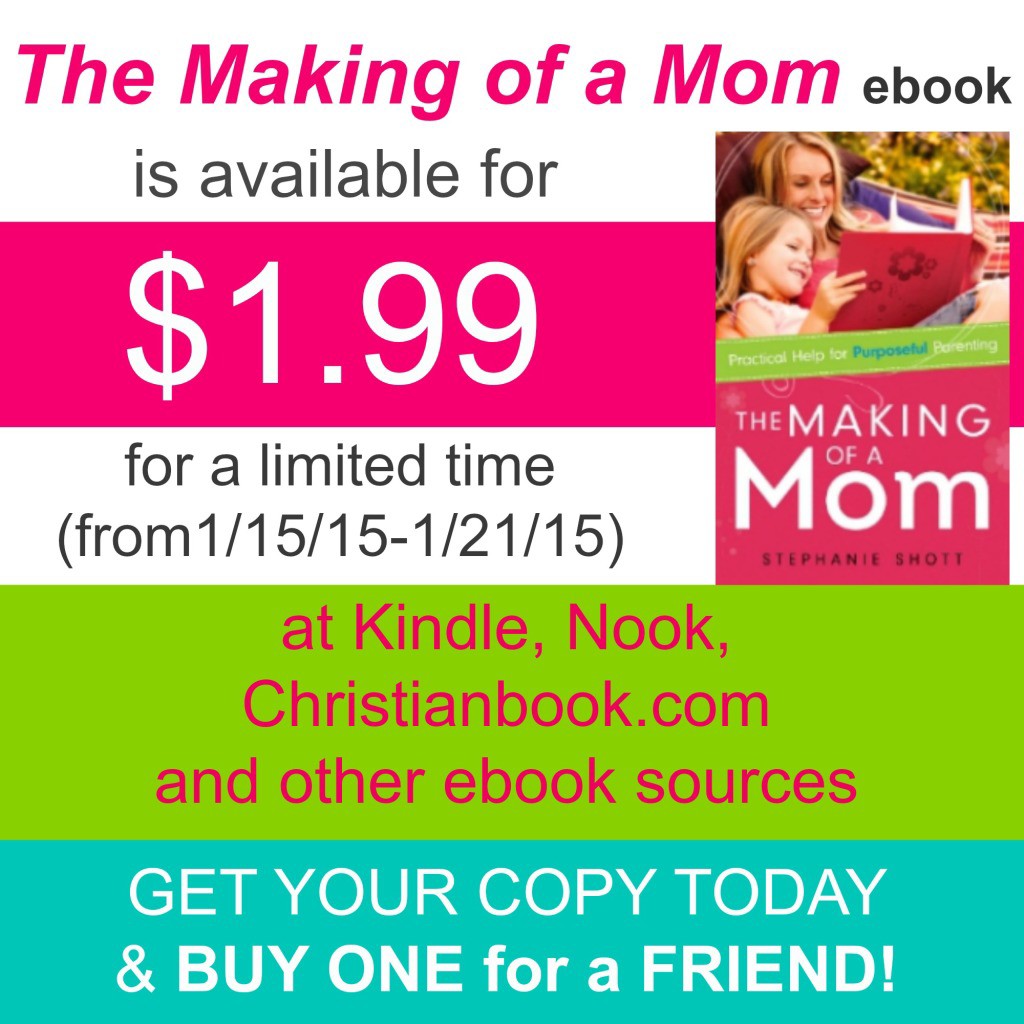 JOIN the THOUSANDS of MOMS, MENTORS & MINISTRY LEADERS who subscribe to The M.O.M. Initiative!
Julie Sanders
and her husband just relocated from the land of sweet tea to the Inland Northwest. The mom of two college students, Julie loves mentoring women around the world, bringing justice to the vulnerable, and teaching God's truths for life. Julie was blessed when seasoned moms walked the marriage and motherhood journey with her and is grateful "grace abounded much more" (Rom. 5:20) than her failures. She is passionate about fighting human trafficking and is the author of Expectant: 40 Devotions for New and Expectant Moms. Join Julie at
Come Have a Peace
, on
Facebook
,
Twitter
, or
Pinterest
,
and don't miss
Marriage Mondays
. She invites you to
contact her about speaking
at your women's event or mommy meeting.
www.juliesanders.org
Latest posts by Julie Sanders (see all)