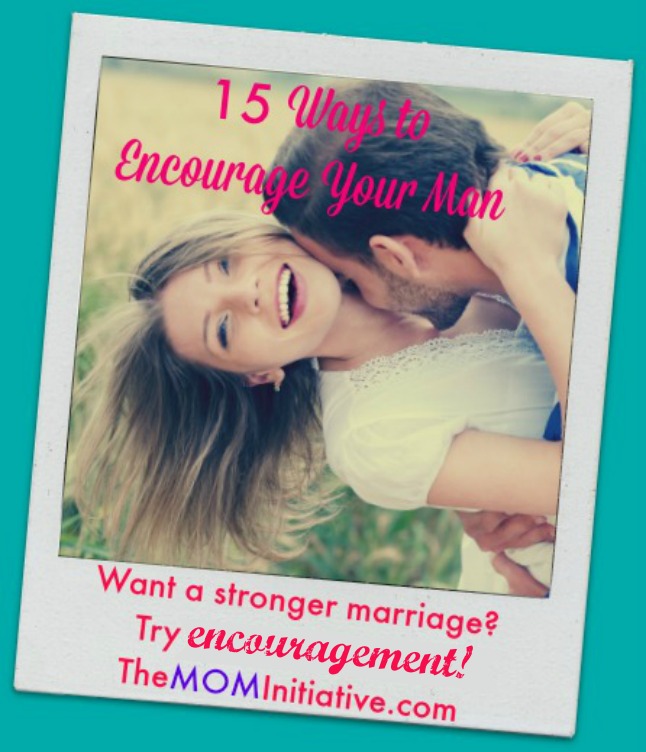 So many changes going on in the Riggleman household and one of them is the way God is working on my heart about my husband. You see, that's because I haven't always been the best wife.
When we first married, I wasn't a follower of Christ and I was raised to believe a woman needed to be strong, fierce, and independent of her man–if she had one. My parents broken marriage left example after example of reasons I thought I needed to be a modern woman with my own ideas and assets, just in case my husband made unwise choices. Just in case I was left on my own, just in case he didn't meet my expectations.
The more I learned about Christ, the more I've embraced God's idea of marriage and family because I saw the benefits of God's unique design as being my husband's help-meet. I've grown to love how my husband's eyes sparkle when I encourage him, plus I'm conscientious of my kids watching my example of what a Godly wife looks like. If you want to improve your marriage or set a better example of a Godly wife, here are 15 ways to begin encouraging your husband!
Verbiage – Whenever possible, compliment your husband, especially in front of your kids. This applies even when his family or friends are around. Give a sincere compliment, it could be anything you appreciate about him.
Be a Flirt – One of things your husband fell in love with about you was how you flirted with him while dating. Flirt with him now. It can be something as simple as a comment to giving him the "I want you" look with your eyes. Flirting reminds your husband you want him which makes him feel secure and loved.
Listen – Take time to listen to him. Set aside time each day to really listen to your husband and ask about his day. Men don't have girl chats and I know my husband dosesn't talk about his frustrations or feelings with any guy friends so when I ask him about his day, it gives him a chance to unload. It encourages him to know you are there for him.
Don't React – No matter how much he drives you crazy, says or does something that offends you, don't react. Instead act with a positive attitude. I always remind myself that my husband is a good-willed person and loves me. He's also human and makes mistakes. This gives me a chance to take a deep breath before reacting.
Text Him – Surprise him with a flirty text message or tell him why you are so grateful to be his wife.
Touch Him – Physical touch can translate into love for a lot of men. So as you talk with him or pass by him…find a way to touch him, like rubbing his shoulders when he passes by or hugging his rib cage, etc
Talk about His Interests – While I'm thankful my husband ins't into sports, he does like to talk about fishing, the weather, severe weather, cooking (he loves to cook) or camping. As often as I can, I bring up his interests. It makes him feel good to know that I'm interested in his interests and want to talk about it.
Be There – Whenever my husband is working on a project in the garage, I grab a book or nail file and go sit in the garage. I don't have to say a word the entire afternoon and yet, he is thrilled. Whenever possible, be there. Whether he's watching a game or working on a project. It reminds him you love just being with him.
Encourage his Hobby's – I'm not a fan of sitting by a lake and fishing all night long, but my husband LOVES to fish. Whenever possible, encourage your man to pursue his hobby. If you know nothing is on the calender for tonight, seat his gear out by the front door. He will be surprised that you're encouraging to take the evening for himself.
Date Night – Plan a date night. Don't wait for him to plan one, he usually doesn't have clue when a night would be good or who to call for a sitter. Make the plans and remind him when date night will be.
Dress the Way He Likes – I know girls, I know–but you really need to give your yoga pants a break. 😎 I haven't been a fan of how my body looked after four pregnancies and birthing three children; but when we have low self-esteem about our bodies our husband's notice. We are their prized possessions which means we need to be confident of how we look. This means dress in a way that is attractive and be confident that you look fabulous. Trust me, your husband doesn't notice your stretch marks or extra pounds, he notices your confidence and all the features he finds Oh-SO-Attractive.
Don't Nag – No matter the situation, don't nag at your husband. It immediately makes him feel disrespected and unwanted. If there is issue he needs to address, bring it to him in a positive manner and use "I feel" statements instead of "It drives me crazy you haven't…." or "Why can't you…."
Shave Him – Unless your husband is uber particular about shaving, offer to shave him. My husband loves it when I shave his face and neck. It creates intimacy and shows him you love being with him.
Steal a Kiss – Wherever you're waiting, whether it's in line, at a stop light, sitting at the dinner table, lean over and steal a kiss.
Appreciate Him – Tell him what you like about his character, for example tell him what you like when he handles the kids, or if has a strong work ethic; point it out and share what you appreciate it about it with him.
WHICH OF THE 15 IS SOMETHING YOU WANT TO START WORKING ON?
____________________________________________________
CLICK BELOW TO HEAR MORE ABOUT BETTER TOGETHER!
2014 M.O.M. Conference ~ BETTER TOGETHER
July 31st – August 2nd,
Jacksonville, Florida at Trinity Baptist Church

Registration Information, Location, List of Breakout Sessions, Descriptions of Workshops, Conference Speaking Team, Better Together Conference Flyer, Better Together Bulletin Insert (Full Color), Better Together Bulletin Insert (Black & White), Better Together Conference Cards (Postcard Size
Heather Riggleman is a coffee addict without a recovery plan. She is a Life Styles Reporter for the Kearney Hub Newspaper in Nebraska and is the columnist of "Chasing Perfect." She uses life experiences of being in her Father's hands to write about the messy, the beautiful, and the ordinary.being a mom to 3, and a wife of 17 years.
You can download a free copy of her ebook Let's Talk about Prayer www.heatherriggleman.com.
Latest posts by Heather Riggleman (see all)