It took thousands of years and it had been 400 years since God's Word came through a prophet. And that is what Advent is for — anticipating. But not for gifts to be unwrapped. No, for The Gift already given. The gift heralded by angels and all creation trembles at the truth. God came down.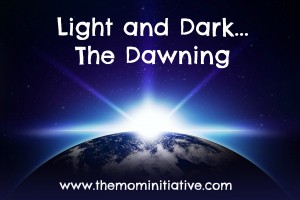 He came on a dark ordinary night, but His coming is the dawn. The dawn promised hundreds of years earlier.
The people walking in darkness
have seen a great light;
on those living in the land of deep darkness
a light has dawned. Isaiah 9:2
And so many missed the dawn. They slept through the night and didn't see the light that came.
And when I fix my eyes on some perfect time — when my kids can, talk, walk, bathe themselves, feed themselves, have an intelligent conversation, drive, get married, bring grand kids home — I miss the dawn too.
I miss the light shining now and wish away days and moments I will never have back. There are days and moments marked by tantrums, bickering, whining and I wish them away. But that is when I miss it. The light that is there in the middle of the messiness of it all.
The Babe came in a manger filled with hay. And in birth and labor to help mold lives in the mess of raising a family. But when I don't look for the light I labor in vain. When I don't see Immanuel — God with us…God with me — in the dark or mundane I miss the light.
And because Jesus came and died and rose again there is light in all our dark, mundane, and glorious moments. There is purpose in all those moments, there is light, there is God. And I don't want to miss the light.
So instead of looking for the light of change, I pray I look for The Light of the world.
How have you seen The Light in the dark, mundane, glorious?

Angela Mackey lives in the Arkansas River Valley with her wonderfully supportive husband and three amazing children. She is passionate about teaching women to renew their minds through God's word so that they may live transformed lives. Angela is a writer, speaker, nurse, and stay-at-home mom who openly shares her struggle with infertility. She loves college basketball (especially the Kansas Jayhawks), reading, writing, and laughing at herself. You can connect with her on her blog

Latest posts by Angela Mackey (see all)