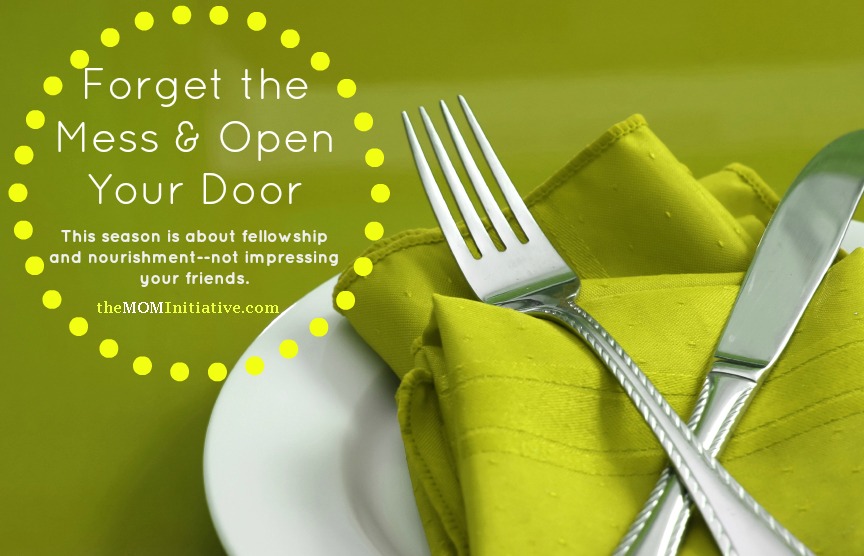 Staring at the half painted walls and ignoring the sticky spots on the couch cushions, I rolled over to my husband and took note of the ancient-falling-to-pieces-why-do-we-still-have-it chair. Far too long I came home each and every day embarrassed of our tiny home. Embarrassed of the old black and white kitchen tile filled with grime in the corners. Embarrassed of the college age furniture and even more embarrassed of the way our son would crash off his medication in the evenings.
I wondered how much we had missed out over the last two years because of unmet expectations. I longed to have friends over, gathered around our dinner table and spilling out into the living room with children running through the rooms while moms called out warnings.
I had forgotten the sounds of wine glasses clinking and the stove timer beeping while my husband simultaneously hollered hello from the kitchen, pulling out the freshly baked dinner rolls and snapping me with a towel.
I had forgotten about the conversations with girlfriends sharing moments "Can you believe it" work stories and "I don't think I can do this" mom moments while the men talked of the weather, sports or pilfered through the garage for some tool to fix some "problem."
And it wasn't until I realized that the problem wasn't the house – it was us and our unmet, overly warped American Dream.
Chris and I were waiting for the next stage in life like we all do. We marry, find a tiny home meeting our needs and budget. We grow a family, move up in pay on the corporate ladder, buy a nicer car and then a newer home.
As I laid on our couch, I mentally threw out each dream one by one and began to embrace the home surrounding my family. Who cares if the walls to the basement are uneven and half painted, odds are, friends can't wait to hear the story behind the sheet rock.
Who cares our office door has a mural on it or that the ceiling is warped or that our living room is combined with our dining room or that the paint is peeling in the bathroom? Chances are friends will leave our house with full bellies, feeling nourished body and soul. They'll leave with memories of laughter and knowing someone else understands where they are in this crazy journey of life and motherhood.
With the holiday season fast approaching, I'm wondering how many of us need a sheltor from the world and how many of us are afraid to open the doors to our humble homes because of things like the "American Dream" or long "Honey do" list still on the fridge.
If the idea of showing hospitality overwhelms you, here are four tips to keep in mind.
Keep it Simple
Toss the idea of perfection. In fact, toss in the can and then light a match.
So often we are afraid to open our homes because we think our homes should look like the cover of Real Simple Magazine and our menus should be nothing short of gourmet. Start simply. Pick a meal you can create with your eyes closed or even better: order pizza and create your own salad. As you get the hang of opening your home, you'll realize gathering around the table isn't just about what you're serving—it's about the depths of fellowship and providing a refuge from this crazy busy world.
Smile
Don't worry about the mess, don't think about what your friends might be thinking. Instead, choose to think about the blessings your friends have been during this holiday season and relax. Anxiety and worry show on our faces and in our conversations. In fact, your kids will pick up on it and wonder if they need to be anxious too. Show joy.
Involve the Kids
So often kids get overlooked during dinner parties. Instead of the old thought "children should be seen but not heard," embrace them. Teach them the basics of hospitality like answering the door, where the coats go and where to get an extra roll of toilet paper. This will teach your kids to celebrate fellowship and teach them how to open their homes.
Embrace the mess
If it makes you feel any better, I'm about to throw a dinner party even though the kids' rooms are in much need of a make over from old windows, grubby hand prints, pet stains and more. Your guests aren't there to compare whose home is nicer or who can cook better. They are there for a hot meal, good friendships and time away from their busy lives.
What tips do you have to entertain this holiday season? What are some simple meals you can make after a busy day of chasing kids or work? Below is one of my favorite crockpot recipes.
White Bean Chili (Chicken optional)
2013-11-03 18:58:40
Serves 4
This recipe can be made vegan friendly as well.
Ingredients
1 T. olive oil
1 medium onion, chopped fine or use 2 green onions, diced
4 large cloves of garlic, minced
1 4.5 oz can of diced green chilies (mild or hot)
1 T . cumin (powdered works best)
1/2 t. ground red pepper
2 t. of oregano
1/2 t. of coriander
1/2 t. ground cloves
2 green bell peppers chopped
3 15.5 oz can great white northern beans (do not drain)
1. 15.5 oz sweet corn or frozen (here in Nebraska, we just shave it off the cobb)
1 15.5 oz can of black beans (this can be added or not added to it, we love our black beans)
2 cups of cooked chicken chopped or two cans of canned chicken ** or extra can of white beans
5 cups of chicken broth ** or veggie broth
Instructions
In a food processor puree 1 ½ cups of the white beans (add some broth if you need it to get things going)
Add the pureed beans to a medium pot
To the food processor add the peppers, shallots, garlic
Pulse until the texture of salsa
Add the pepper mixture to the pot with the pureed beans
Add the veggie broth, corn, cumin, coriander, chili powder, chicken and remaining beans
Bring to a boil, cook until the veggies are tender
Add salt and pepper to taste
Dish up and enjoy while serving with thick crusty bread and a simple salad.
The Mom Initiative http://www.themominitiative.com/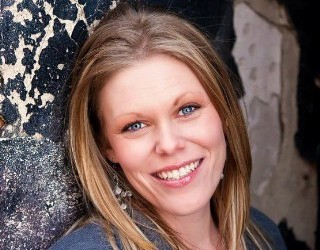 Heather is a favorite speaker among Nebraska women, sharing from her past of failures and triumphs.When she isn't producing the news at Nebraska.tv or tweeting the latest about her church New Life Assembly, or hanging with her MOPS moms, she is sharing about her first love–Jesus.
Her passion is to share how women/moms are made whole in Jesus at her blog: Falling to Peace(s): Thoughts on grace, letting, & imperfection. There she blogs about parenting special needs kids, vegan recipes, tattoos, all things motherhood, and being imperfectly perfect in God's eyes. She is the author of Mama Needs a Time Out and has two other books due out next fall.
IF YOU LIKE THIS POST, OR IF IT HAS ENCOURAGED YOU, PLEASE SHARE
JOIN US ON FACEBOOK and TWITTER too!
---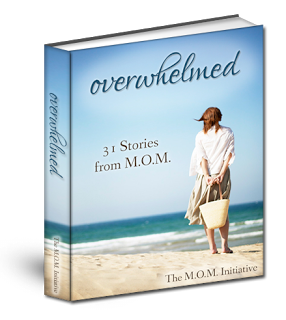 SUBSCRIBE to receive your FREE copy of Overwhelmed today!
AND/OR
SIGN UP to BEGIN a M.O.M. Initiative Mentor Group in your area! You will also receive a FREE copy of Overwhelmed and as a ministry tool, please feel free to make as many copies as you need.
Heather Riggleman is a coffee addict without a recovery plan. She is a Life Styles Reporter for the Kearney Hub Newspaper in Nebraska and is the columnist of "Chasing Perfect." She uses life experiences of being in her Father's hands to write about the messy, the beautiful, and the ordinary.being a mom to 3, and a wife of 17 years.
You can download a free copy of her ebook Let's Talk about Prayer www.heatherriggleman.com.
Latest posts by Heather Riggleman (see all)