Sometimes, the thought of becoming a mentor can be scary (believe me, I know).
But it doesn't have to be.
Take a minute and listen to my story, and hopefully be encouraged…
If you can't see the video in your reader, please click… Genny Heikka – On Becoming a Mentor from Genny Heikka on Vimeo.
IF YOU'D LIKE TO KNOW MORE ABOUT HOW YOU CAN BEGIN A M.O.M. MENTOR GROUP IN YOUR AREA, PLEASE CLICK THIS LINK.
You never know the impact you can make, just by saying yes…
QUESTION: WHO IS MENTORING YOU? WHO ARE YOU MENTORING? WHAT MIGHT BE PREVENTING YOUR FROM BECOMING A MENTOR?
IF YOU LIKE THIS POST, OR IF IT HAS ENCOURAGED YOU, PLEASE SHARE
JOIN US ON FACEBOOK and TWITTER too!
---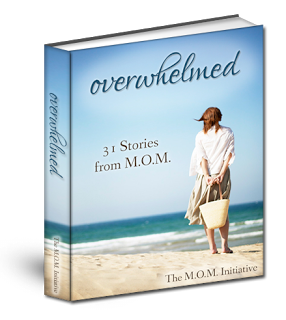 SUBSCRIBE to receive your FREE copy of Overwhelmed today!
AND/OR
SIGN UP to BEGIN a M.O.M. Initiative Mentor Group in your area! You will also receive a FREE copy of Overwhelmed and as a ministry tool, please feel free to make as many copies as you need.