I couldn't believe there was mist on my windshield this morning. If it had been any cooler, it would have been ice. The seasons are changing and fall is coming. It's one of my favorite times of the year. And this time around I won't be just experiencing the change of the weather but a new season at home. After being at home for the last seven years, I am about to enter back into the workforce (if you've been there, I welcome the advice and tips!) Thankfully, it's part-time. I will be home during the day to write and spend time with Tori-Grace before heading into work in the evenings. With that said, I needed to come up with a few good recipes and tips to smooth out this transition and because we follow a plant-based, whole foods diet for our children's dietary needs, I needed to be sure it wasn't a headache for my family. Yep, I'm the new vegan on the the M.O.M. Team–more like Flexatarian because I still love to have sushi every once in a blue moon!
TIPS
Plan your menu.
I plan everything: breakfast, lunches, and dinners. This helps you and your hubby stay on the same page and allows you to cook ahead of time if needed. Nothing is more chaotic than arriving home after a busy day with kids running amuck, homework needing checked and asking the age old question, "What's for dinner?"
Not only do I plan a menu, I write the menu out on a weekly board and include the recipe book and page number.
Cook on the weekend with your friends
If i'ts possible, gather a few of your girlfriends and have a cooking spree. The beauty of cooking with your friends is you can combine resources and cookseveral meals at once. When finished, you've filled up your cup of girlfriend time and your freezer is full of tasty goodness.
Make Dinner for Lunch
This reduces much of my stress and our grocery bill. And the best part–your kids learn to like dinner! Often I will cook a larger meal with notion of having left overs (sometimes if it's a hit, there are NO leftovers). Then depending on what it is, I put the meal in a thermos to keep warm or add extra icepacks to keep the items fresh and cold. Last Friday, I packed quinoa and peas for my daughter's lunch. 🙂
How about some recipes to help you plan ahead? These recipes are on my author site but I'm putting here on TheMomInititave for you to Pin or print!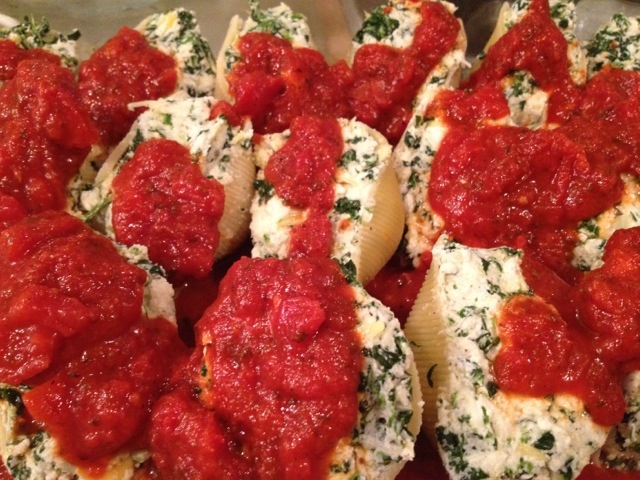 Stuffed Pasta Shells (Dairy Free)
2013-08-22 21:50:05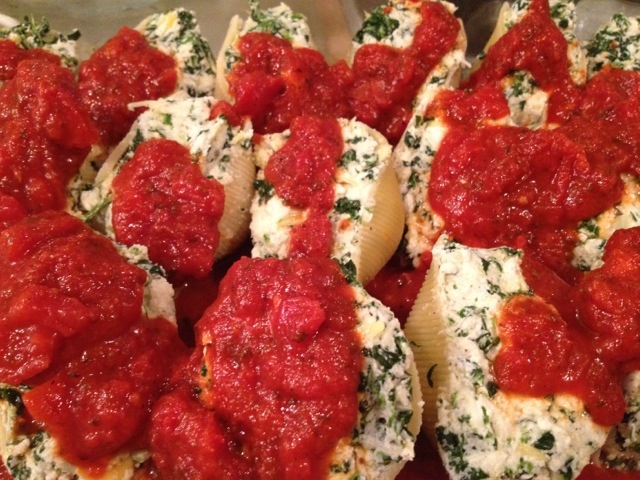 A yummy comfort food without dairy.
Ingredients
3 tablespoons olive oil
2 teaspoons salt
2 teaspoons oregano
2 jars of your favorite marinara sauce
2 jars of marinated artichokes, chopped (optional)
2 packages (32) ounces extra firm tofu
2 cloves garlic
2 tablespoons nutritional yeast
1 large bag of frozen spinach, defrosted
2 boxes jumbo shells
Instructions
Drain the tofu and pat dry with paper towels.
Crumble into the bowl of a food processor or high-speed blender along with olive oil, salt, oregano, garlic and nutritional yeast. Process on high until smooth and "ricotta-like".
Add the defrosted spinach & artichokes to the blended tofu mixture.
Cook shells in boiling salted water until el dente. Drain
Preheat oven to 350 degrees. Pour about ½ cup pasta sauce into the bottom of a 9 x 13 inch pan. Stuff shells with 2 T of filling and place in pan, seam side down. Repeat until all shells have been stuffed.
Pour remaining pasta sauce over shells, cover with foil and bake for 30 minutes. Serve!
To Freeze
Place a thin layer of sauce in each pan. Fill each shell with 2-3 tablespoons filling. Place shells, filled side down, in pan, allowing 3 to 4 shells per serving. (Small loaf pan, 3 shells; 8-inch small casserole pan, 6-7 shells; 8 by 8 pan, 18-19 shells; 9 x 13 pan, entire recipe). Cover with remaining sauce.
Cover each pan with foil and then wrap in plastic wrap or place in plastic bag and seal.
To avoid confusion about what you have stored and to know what to do with it later, it is important that you label your container so the instructions are handy when you are ready to cook your meal. Cut out and/or copy the label and tape to outside of outer wrap. Lay pans flat in freezer. Remove plastic wrap before baking. Bake according to label directions.
The Mom Initiative http://www.themominitiative.com/
IF YOU LIKE THIS POST, OR IF IT HAS ENCOURAGED YOU, PLEASE SHARE
JOIN US ON FACEBOOK and TWITTER too!
---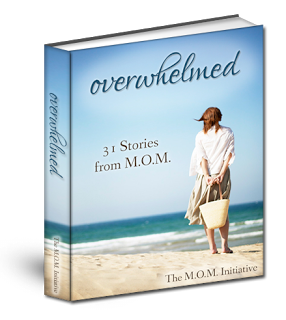 SUBSCRIBE to receive your FREE copy of Overwhelmed today!
AND/OR
SIGN UP to BEGIN a M.O.M. Initiative Mentor Group in your area! You will also receive a FREE copy of Overwhelmed and as a ministry tool, please feel free to make as many copies as you need.