Teachers hope and pray they'll get at least one of "those" parents in their classroom. A sensitive, enthusiastic, flexible parent has the potential to make all the difference in a teacher's year and, as a result, in a child's year too. Prize parents don't brown nose in hopes of scoring top grades for their child or the lead role in the Thanksgiving play, but they see themselves as an educator's resource able to lift a teacher's load and support their school.
You may not find "Awesome Parent" on the teacher's supply list, but every educator longs to receive the gift of a parent they can't help but love.
Parents teacher love follow 10 simple class rules:
Believe the best of the teacher and squash any gossip.
Coach your child to be respectful to others, especially the teacher.
Keep classroom news about other students confidential.
Spread a positive perspective in and around the classroom.
Volunteer when there's a need and follow through.
Accept and pray for the teacher as a real person.
Be interested in what students are learning.
Send a genuine thank you for specific reasons.
Send a well-rested, well-fed, well-supplied child to school.
When there's a problem, ask the teacher directly, immediately, privately, and calmly.
Our students are watching and listening to how we engage and support the educators in their lives. It doesn't take a lot to be a parent teachers love.
If you enroll your child in a classroom where you aren't the instructor, read the invisible ink on the bottom of this year's supply list: Every teacher longs for a parent who will be a partner they can love!
IF YOU LIKE THIS POST, OR IF IT HAS ENCOURAGED YOU, PLEASE SHARE
JOIN US ON FACEBOOK and TWITTER too!
---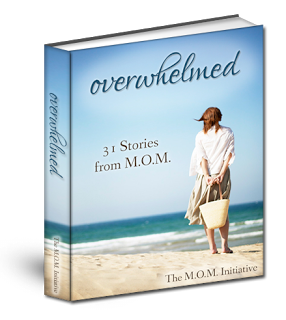 SUBSCRIBE to receive your FREE copy of Overwhelmed today!
AND/OR
SIGN UP to BEGIN a M.O.M. Initiative Mentor Group in your area! You will also receive a FREE copy of Overwhelmed and as a ministry tool, please feel free to make as many copies as you need.
Julie Sanders
and her husband just relocated from the land of sweet tea to the Inland Northwest. The mom of two college students, Julie loves mentoring women around the world, bringing justice to the vulnerable, and teaching God's truths for life. Julie was blessed when seasoned moms walked the marriage and motherhood journey with her and is grateful "grace abounded much more" (Rom. 5:20) than her failures. She is passionate about fighting human trafficking and is the author of Expectant: 40 Devotions for New and Expectant Moms. Join Julie at
Come Have a Peace
, on
Facebook
,
Twitter
, or
Pinterest
,
and don't miss
Marriage Mondays
. She invites you to
contact her about speaking
at your women's event or mommy meeting.
www.juliesanders.org
Latest posts by Julie Sanders (see all)