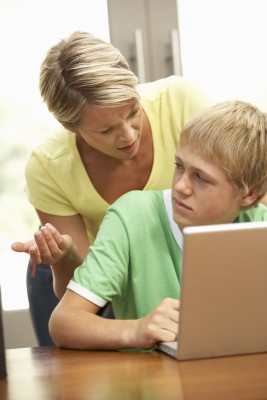 Hi. My name is Cheri, and I'm a Meddlesome Mom.
I hate admitting this.
I spent my first eighteen years of motherhood looking down my nose at smother mothers and telling myself Thank goodness I'm not one of them!
Proverbs 2:11 says, "When pride comes, then comes disgrace, but with humility comes wisdom."
Let's just say that once my children headed off for college, that wisdom starting coming, all right!
I discovered, much to my chagrin, that they were both lacking dozens of basic life skills. I'd prided myself in being a supportive mom, one who took an active interest in her kids' lives. Turns out that I'd been so involved that when I wasn't around, they floundered.
And when your 20-year-old flounders without you, that's a pretty big sign that you've been meddling, not helping.
I just finished blogging a month-long series on Rebekah, the biblical Queen of Meddling Moms. To help us remember the difference between meddling and helping, I compiled this free downloadable chart. I hope you'll find it helpful (…but not meddlesome!)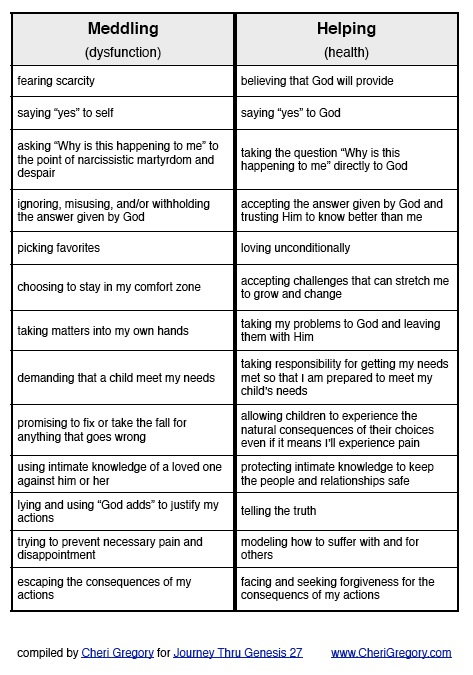 (Can't see image? Click here to download the Meddling vs. Helping Chart!)
Your Turn:
What else would you add to the Meddling vs. Helping chart?
How do you discern between meddling and helping?
What consequences have you seen when a child has a Meddlesome Mom?
What's a recent situation in which you had to figure out quickly if you were helping or meddling?
---
Now it's time to LINK UP & join the fun, meet new friends & make your message more available to others!
(Oh…and don't forget to grab our button and share the love!  )
Cheri Gregory is a Certified Personality Trainer; contributor to multiple books, including Wired That Way and 21 Ways to Connect With Your Kids; and frequent speaker for MOPS groups, women's retreats, parent workshops, and educational conferences. She is also a high school English teacher and graduate student. Cheri has been "wife of my youth" to Daniel (her opposite personality), a pastor, for over a quarter-of-a-century; they have two college-aged kids (who are also opposite personalities). She blogs about expectations, "baditude", and hope at www.CheriGregory.com. Connect with her on Facebook at www.Facebook.com/Cheri.Gregory.Author and Twitter @CheriGregory.
Latest posts by Cheri Gregory (see all)