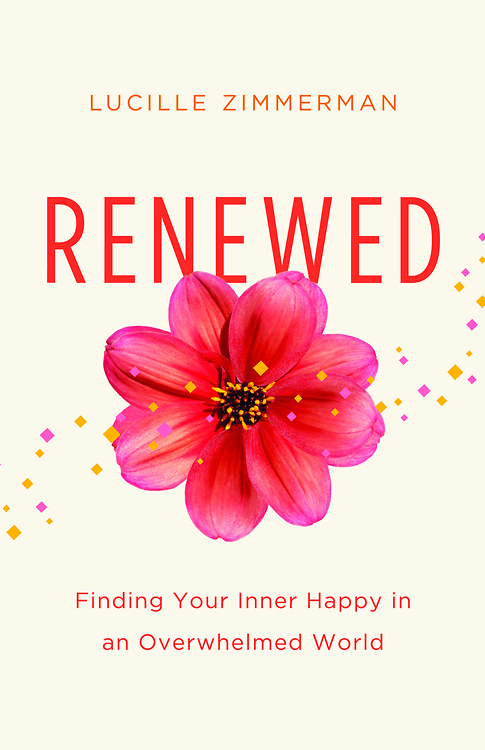 Overwhelmed.
I've been speaking to women's groups for more than two decades. And while fashions and American Idols and fad diets have changed over the years, this one thing has remained constant:
When I ask women what they struggle with, day in and day out, their #1 answer is "I feel so overwhelmed!"
So I fell in love with Lucille Zimmerman's new book the moment I laid eyes on the cover.
Renewed.
Ahhhh…what an invitation!
I spent two weeks enjoying Lucille's stories, Biblical insights, and practical wisdom as I savored (and stuck Post-It Notes all over!) a chapter a day.
Renewed now resides on the "grab often" bookshelf near my writing desk, as I know I'll be quoting from and highly recommending it daily.
So I'm thrilled to welcome Lucille to The M.O.M. Initiative today!
Cheri: In Chapter 7, "Renewed Through Appreciating Beauty," you advise "Don't multitask–enjoy the one thing you are doing now." How can we teach the value of focus to our children who seem to thrive on multitasking?
Lucille: I think a good way to do that is to take a mommy time-out. Mommy can turn off the phone, get off the computer, and take some quiet time to read or whatever it is that helps her relax. At the same time she can put the child in a quiet space with his or her own books.
Cheri: I've re-read Chapter 11, "Renewed Through Creating a Place for Grief", several times and shared it with my college-aged daughter, as our family has experienced numerous losses recently. I've never learned to grieve, so I've felt helpless and inadequate watching her struggle. How can mothers help their children learn healthy ways of grieving?
Lucille: I'm so sorry you are both experiencing so many losses.
It seems common in America to hide or bury grief. If people grieve they do it behind closed doors. Many people are ashamed to shed a tear in public.
This creates an environment where people don't know how to grieve. But while there is no right or wrong way to grieve, we know that burying grief does not work. Grief waits. There's a wonderful book, for children or adults, that helps normalize the grief process, and gives readers encouragement. It's called Tear Soup. Here's a short video clip about the book:
(Can't view embedded video? Click on this link to view Tear Soup directly in YouTube!)
Cheri: In Chapter 14, "Renewed Through Generosity and Gratitude," you give practical tips for adults. What advice do you have for mothers who would like to teach their children to be generous and grateful?
Lucille: People who are generous and grateful are also much happier. Studies prove the powerful and long lasting effects of writing a thank you note or even giving a $5 item.
Here are some of the ways I tried to model gratitude and generosity to my children:
Talk about what you are thankful for. (e.g. "Aren't we lucky to have such a nice cozy house? Clean clothes? Yummy food?)
Model a giving heart by anonymously paying for a person's coffee or meal. Or pay the toll for the car behind you.
Volunteer at food banks or deliver meals to the needy during the holidays.
Sponsor a child in a third world country through organizations like Compassion International and
Highlight the feeling a child gets when someone is generous to him or her. ("Wasn't that nice how Elizabeth thought about you and gave you half of her cookie?")
Have older children journal and younger children draw pictures of the people and things they are thankful for.
Cheri: Lucille, thank you so much for sharing with our moms and for sharing a message through your book that is both challenging and reassuring!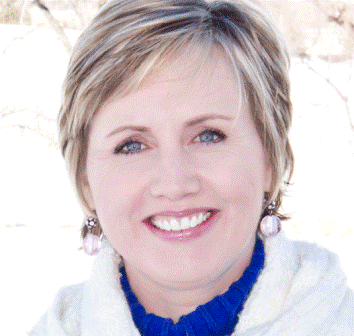 Lucille Zimmerman is a Licensed Professional Counselor with a private practice in Littleton, CO and an affiliate faculty professor at Colorado Christian University.
She is also the author of Renewed: Finding Your Inner Happy in an Overwhelmed World. Through practical ideas and relatable anecdotes, readers can better understand their strengths and their passions—and address some of the underlying struggles or hurts that make them want to keep busy or minister to others to the detriment of themselves.
Renewed can help nurture those areas of women's lives to use them better for work, family, and service. It gives readers permission to examine where they spend their energy and time, and learn to set limits and listen to "that inner voice."
---
---
Now it's time to LINK UP & join the fun, meet new friends & make your message more available to others!
(Oh…and don't forget to grab our button and share the love! )
Cheri Gregory is a Certified Personality Trainer; contributor to multiple books, including Wired That Way and 21 Ways to Connect With Your Kids; and frequent speaker for MOPS groups, women's retreats, parent workshops, and educational conferences. She is also a high school English teacher and graduate student. Cheri has been "wife of my youth" to Daniel (her opposite personality), a pastor, for over a quarter-of-a-century; they have two college-aged kids (who are also opposite personalities). She blogs about expectations, "baditude", and hope at www.CheriGregory.com. Connect with her on Facebook at www.Facebook.com/Cheri.Gregory.Author and Twitter @CheriGregory.
Latest posts by Cheri Gregory (see all)