I'm guessing if you are reading this post, you want to save money and make use of that freezer compartment. Not only will it save you money, it saves you time in the kitchen. But I bet you're wondering how to make use of sales on produce and how to freeze them too. So let's dive in with a few tips (Hint: print this out or pin it to your Pinterest Boards!). 
The first tip is to know what is seasonal in terms of produce, then shop for the best price in mass quantities. For example, I scout strawberries because I use them in a ton of recipes, including smoothies. Once I find a good sale, I stock up, buying as much as my budget will allow. I get bring them home and Flash Freeze these gems! What is Flash Freezing? It is essentially spreading your goodies out on a baking sheet and freezing them partially. This prevents the produce from sticking together in bunches.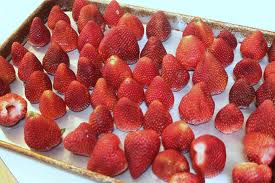 How to Flash Freeze
Step 1: First, wash your berries. Unless you purchased your fruits and veggies at an organic farm, they most likely have chemicals from pesticides on them. You can purchase products to wash off the pesticides or you can use a natural brew. ( I found this all natural recipe tip from Faithful Provisions).
Add a ½ cup of vinegar to a sink full of warm water.

Allow berries and veggies to soak for 2-3 minutes.

Rinse well.

Drain sink.

Now add ½ cup of hydrogen peroxide to a sink full of water.

Allow your berries or veggies to soak for 2-3 minutes.

Rinse well.

Pat dry or allow to air dry in strainer.
Step 2: Cap your berries if you prefer. Most of the time I don't cap my berries. The green leaves will fall off once they are frozen. Since I use the bulk of mine in smoothies, I will just rough chop them before freezing.
Step 3: Line a cookie sheet with parchment paper and place your pickings on the paper, then put the berries or veggies into the freezer until they are somewhat frozen. This roughly takes 2 to 3 hours depending on your freezer.
Step 4: The storage method that you now use for your strawberries is key. If you do not freeze them as air-tight as possible, you run the risk of freezer burn.
Freezer Bags. Use plastic zipper bags that say specifically they are for the freezer. You may use quart or gallon-size. I typically put mine in gallon bags, and I double-bag them.
Get out excess air. Press out all the air–as much as possible.
Always label. Label with the date before putting them in  the freezer. They should be good for up to six months.
The Do Not Freeze List
This list is your reference list if you aren't sure if it is freezeable, unless you want to find out the hard way. 
• Vegetables: Salad greens, cucumbers, celery, raw potatoes (I have a mashed potato freezer recipe here), radishes, onions, sprouts. 
• Fruit: Lemons, limes, watermelon, grapefruit, apples, oranges and grapes. 
• Dairy: Yogurt, any soft cheeses including cream cheese, cottage cheese, salad dressing, mayonnaise, sour cream and custards. 
• Herbs (if frozen alone in sprigs): Basil, chives, parsley, other soft herbs
The "What to Freeze" List
(All of these can be chopped into smaller amounts and the flash freezing method helps with portion sizes besides prevention of them sticking together and becoming one big frozen clump).
Apples

Apricots

Bananas

Berries of all kinds

Cherries

Coconut

Cranberries

Citrus

Grapes (if you are going to eat them frozen)

Peaches

Pears

Pineapple

Plums

Raspberries

Rhubarb

Strawberries

Bell Peppers

Mushrooms

Asparagus

Beans – most varieties

Beets

Broccoli

Cabbage (only use for cooking)

Carrots

Cauliflower

Celery

Eggplant

Greens (Kale, mustard and turnip)

Okra

Peas (black-eyed and green)

Pumpkin

Sweet potatoes

 Turnips

Summer squash

Tomatoes (stewed, only use for cooking)

Eggs (used an ice cube tray, crack open one egg into each cube, top off with water.) Once frozen take out of tray and place cubes into ziploc bags.
Heather Riggleman is a coffee addict without a recovery plan. She is a Life Styles Reporter for the Kearney Hub Newspaper in Nebraska and is the columnist of "Chasing Perfect." She uses life experiences of being in her Father's hands to write about the messy, the beautiful, and the ordinary.being a mom to 3, and a wife of 17 years.
You can download a free copy of her ebook Let's Talk about Prayer www.heatherriggleman.com.
Latest posts by Heather Riggleman (see all)