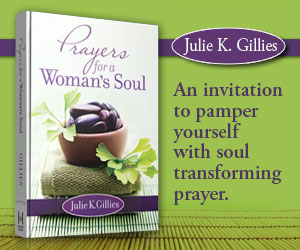 You know we LOVE to share resources with you that will encourage your heart and make your 'mom journey' the best it can be…well today, we're honored to share a GREAT POST by our guest, Julie Gillies who is author of the new book, Prayers for a Woman's Soul as well as a chance to WIN A COPY OF HER BOOK by entering a comment to today's post.
The WINNER of PRAYERS FOR A WOMAN'S SOUL will be announced in tomorrow's post.
And now, without further ado…. Here is our post by our author, Julie Gillies…
Don't Stop Clinging
I'd had it. I not only wanted to throw in the towel, but my wedding ring, too. On the verge of utter despair over the state of my marriage, I poured out my heart to God and waited, aching to hear His response.
And I didn't hear a thing.
Sometimes our prayers feel like confetti tossed in front of an oscillating fan—they seem to blow right back at us and scatter all over the floor.
When it feels like our prayers dissipate in the breeze, it's tempting to think there is no use in praying.
This is when we must determine to cling.
Like a near-drowning victim latched onto a lifeguard out in the deep, through our prayers we cling to God's promises, His truth, and His presence, regardless of how we might feel—especially because of how we feel.
When we resolve to push past our circumstances and latch onto God's promises, He will notice. Like the woman with the issue of blood who pressed through the crowds and dared to reach out in spite of 12 years of what felt like her prayers evaporating in the wind—Jesus took notice. (See Mark 5:25-34) And she was healed.
Though I didn't sense God's answer to me immediately on that particular throw-in-the-towel day, I eventually did. The awesome thing is He was at work all along, and I'm living proof: I hung in there with my marriage (and through God's grace) and my husband and we will soon celebrate our 27th wedding anniversary.
So cling to Him through prayer, sweet friends. As we cling, we will absorb His strength, remain in the protection of His shadow, and grow in our ability to persevere.
My whole being follows hard after You and clings closely to You; Your right hand upholds me. (Psalm 63:8)
But take diligent heed to do the commandment and the law which Moses the servant of the Lord charged you: to love the Lord your God and to walk in all His ways and to keep His commandments and to cling to and unite with Him and to serve Him with all your heart and soul, your very life. (Joshua 22:5)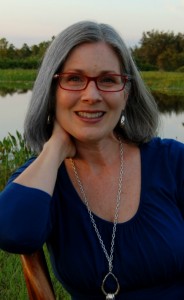 Julie Gillies is the author of Prayers for a Woman's Soul (Harvest House Publishers/February 2013). Healed from a traumatic childhood and awed that God saved her seriously troubled marriage, her message helps women pray with boldness, confidence, and the certainty that God hears. Julie is the Critique Groups Director for Proverbs 31 Ministries, and serves on the editorial team of P31 Woman magazine. She's the joyful wife of Keith, mom of two soldiers and one civilian, and grammy of four. She loves hanging out with the entire gang at home, especially on days when her house is clean. Find FREE resources and connect with Julie at: www.JulieGillies.com