Do you have the Perfection Infection? Maybe you have it and don't even realized you're infected. Let's go through the check list of questions shall we?
My house needs to be clean at all times.
My children should be well behaved in public, in the van, and at home.
I need to lose at least 10 pounds.
My marriage doesn't compare to Bard and Angelina.
If I could just get my kids to behave the way my neighbor does…..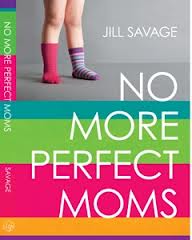 If you answered yes to one or all of these questions, chances are you have a case of it. But that's okay, here at the Mom Initiative, we will be starting an online series with Jill Savage's book, No More Perfect Moms. Jill writes: 
"If you've ever forgotten to pick your kid up from soccer practice or accidentally worn two different shoes to the grocery store, this book is for you. Being a mother is not for those who display symptoms of the "Perfection Infection." There is simply no such thing as a perfect mom. And there are no such things as perfect kids, perfect bodies, perfect marriages, or even perfect meals. With refreshing honesty, author Jill Savage exposes some of her own parental shortcomings with the goal of helping mothers everywhere shelve their desires for perfection along with their insecurities of not measuring up to other moms . Jill delivers some much-needed realism as she explains why we need to stop comparing our insides to other people's outsides.  She challenges every mom to exchange her vision of being a "perfect mother" for God's beautiful grace in order to learn to love her real, but imperfect, life."
Materials needed but not required: No More Perfect Moms by Jill Savage. 
Available on most major websites like Amazon. 
Sign up for Jill's 30 day challenge at Hearts at Home (this will keep you in the loop for our study and give you insight where you are most affected with high expectations and perfectionism). 

We will meet back here on Saturday to read through the intro of Jill's amazing book and watch a short 3 minute video. I hope you'll stop and add your thoughts.