You're a good mom.
You need to hear those words.
So many times we play discouraging tapes in our heads such as:
"I've messed up so bad."
"Why can't I be as "together" as other moms?"
"I'm a horrible mother."
"I should have taken my child to the doctor sooner."
"I should have had a teacher conference sooner."
"I should have noticed my child was behind."
"I should have…."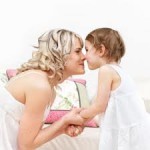 The self condemnation can seem endless.
But do yourself a favor today. Sit back. Take a load off.  Look at what you are doing RIGHT!
Did you wake up and greet your child?
Did you give your child breakfast?
Did you change your babies' wet diaper?
Did you wash a load of clothes?
Did you give your little one a bath or herd your older one to the tub?
Did you wipe a runny nose?
Did you clap when your little one sat on the potty?
Did you read a book to your child?
Did you give your little one a smile and hug?
Did you say good night prayers?
Did you comfort little one with the words, "I love you" as you tucked them in bed?
Take a mental load off, mommy. You're doing so many things right.
You are your child's defender and provider; their helper and keeper, their encourager, and coach.
And remember most of all how very much God loves you. YOU are HIS precious child. So don't forget to run to Him with your broken heart. He is ever present to wipe your tears, to give you a smile, and to cheer you on.
God is love. Receive His love today.
"We have come to know and have believed the love which God has for us. God is love , and the one who abides in love abides in God, and God abides in him." 1 John 4:16
We're LINKED UP WITH: