with Karen Ehman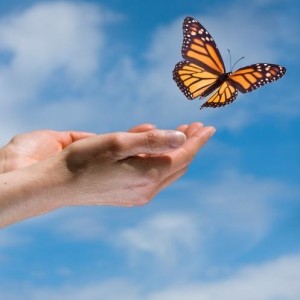 My friend Sheila Wray Gregoire asked a great question last week: "When Does Childhood End?" I agree with her premise that one of my duties, as a mom, is to help my kids find their route to independence, maturity, and purpose.
So it's been hard to admit that I was a "smother mother" when my daughter was in high school. I ran interference with my daughter's teachers so often, she did not learn how to advocate for herself.
She didn't know how to ask, "When can I come make up the quiz I missed yesterday?" or "Why did I get 25/50 on this essay?" or "What can I do to improve my grade in this class?"
My well-meaning "help" (read: meddling) resulted in unintended developmental delays. My daughter's freshman year was a tailspin of ditched classes, failed tests, social media overload, anxiety attacks, and depression.
And she's not unique. I read daily on Facebook of the pain and confusion that blind-side many of my former students their first year of college, when they are expected to behave as adults but lack the skills and practice to do so.
Karen Ehman on "Turning Over the Reins"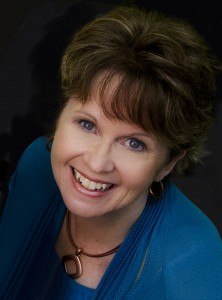 Today, I'm thrilled that Karen Ehman, Director of the Proverbs 31 Ministries speaking team and featured speaker for Hearts at Home conferences for moms, is here to share her strategies for preventing such unnecessary challenges!
When They're Little
Cheri: Many of our readers aren't even thinking about sending their babies and toddlers off to college. They're just trying to get a decent night's sleep! Should they even be worrying about letting them go this early?
Karen: Absolutely! In the toddler years, it's important to allow your kids to get the feel for making choices. Offer them options that don't really matter, like the clothes they wear or style of their hair. (Yes, you'll survive it when they pair stripes with plaids!)
When They're in Elementary School
Cheri: In your new book LET. IT. GO.: How to Stop Running the Show and Start Walking in Faith, you emphasize setting boundaries during the elementary years. Does this just mean spelling out the family rules?
Karen: No, it goes way beyond "laying down the law." It's vital to also explain the consequences and tell them why. When possible, use a story, a video clip, or a real-life tale to show them, not just tell them.
When They're in Middle School
Cheri: You recommend involving our children in setting boundaries and consequences in middle school. Why?
Karen: First, they'll feel a sense of ownership and will be less likely to balk at the consequences, since they helped invent them. Second, you're inviting your children to discover how society works, on a microcosmic level. The real world has laws and rules; bad behavior has consequences.
When They're in High School
Cheri: I can attest to the wisdom of your advice for parenting high schoolers. Instead of treating them "like young adults, not babies" I stepped in and rescued mine far too often. I thought I was "helping." I now see that I needed to walk alongside them through the normal pain of growth.
Karen: This is so hard! When your fist is almost unclenched and your baby birds are test-driving their frail, underdeveloped wings, it will tear your heart right in two, and it will toy with your emotions daily. But you have to fight the urge to step in and overcontrol.
And don't beat yourself up for their bad choices. They aren't your fault. Yes, equip them as best you can, but don't glean your identity from their decisions. It's God's job to be their God and your job to be their mom.
When They're in College
Cheri: You're so right in saying that where others may see our college-aged child as "a young, independent man taking his place in society..but you may still see a little boy." My son was born prematurely, and even though he stands six feet tall and sports an impressive beard, I still see a little blue bundle in an incubator when I think about him!
Karen: It's hard, but necessary, to remember that while your adult children will always be your children, they are now also full-fledged adults. You may want to intervene when you see your children making choices that will lead to heartache or trouble. However, sometimes you need to keep quiet and let them take a path that might temporarily sting but, in the end, will steer them in the direction of spiritual maturity and success in life.
Fight the urge to step in and intervene when God is trying to teach your adult children a life lesson. Back off. Hit your knees, not the phone. Know your role as a praying parent, not a meddling mother.
Always: To God
Cheri: You emphasize that during all stages, we are pointing our children to our faith. What might this look like?
Karen: Make applying biblical principles around your house as natural as breathing.
Show your children — by your attitudes and actions — that God is your plumb line for living life and that you long for every decision you make to glorify Him.
Knit Scripture into your conversations, not as a weapon, but as a way of showing your children that God is right and good and knows what He's doing.
Steer, cheer, and encourage instead of control.
And don't forget to ask for forgiveness when you blow it.
Many thanks to Karen for sharing her time-tested strategies for "Turning Over the Reins" slowly and intentionally so that our children are ready to go when the time comes!
---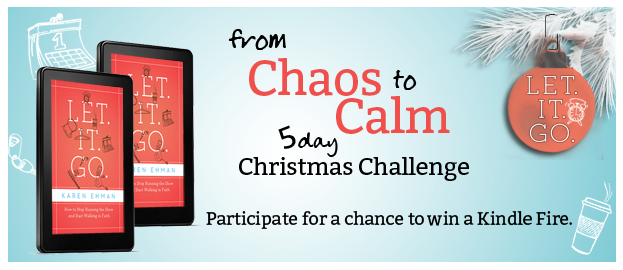 Karen's new book LET. IT. GO.: How to Stop Running the Show and Start Walking in Faith releases tomorrow! A Participant's Guide and 6-week study DVD are also available.
You can read an excerpt from LET. IT. GO. and sign up for the 5-day From Chaos to Calm: The LET. IT. GO. Christmas Challenge (I just got my 5th e-mail today and have LOVED the whole series!)
AND, you can enter to win a copy of LET. IT. GO!
So, now it's time to LINK UP & join the fun, meet new friends & make your message more available to others!
(Oh…and please be sure to grab our Link Up button on the sidebar! )
Cheri Gregory is a Certified Personality Trainer; contributor to multiple books, including Wired That Way and 21 Ways to Connect With Your Kids; and frequent speaker for MOPS groups, women's retreats, parent workshops, and educational conferences. She is also a high school English teacher and graduate student. Cheri has been "wife of my youth" to Daniel (her opposite personality), a pastor, for over a quarter-of-a-century; they have two college-aged kids (who are also opposite personalities). She blogs about expectations, "baditude", and hope at www.CheriGregory.com. Connect with her on Facebook at www.Facebook.com/Cheri.Gregory.Author and Twitter @CheriGregory.
Latest posts by Cheri Gregory (see all)