You could pull the curtains and claim it's sunny, but more than 1/3 of the United States will experience Hurricane Sandy first-hand. Anxiety surfaces for some children, and questions arise for others, but all young minds do some mental filing and processing as this "Superstorm" strikes the East coast of the United States. Don't be fooled; they're thinking about more than lost Halloween candy. How do you talk to kids about a storm?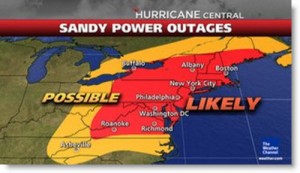 What God says about the storm
God's word is not silent about storms. This opens the door for moms to use natural questions, to help children understand God and His plans.
God created peace and storms. "I form light and create darkness, I make well-being and create calamity. I am the Lord, who does all these things"  (Isaiah 45:7).
God makes all the parts of a storm. "Praise the Lord from the earth, you great sea creatures and all deeps, fire and hail, snow and mist, stormy wind fulfilling his word!" (Psalm 148:7-8)
God commands winds and waves. "For he commanded and raised the stormy wind, which lifted up the waves of the sea" (Psalm 107:25).
God makes storms stop and be calm. "He made the storm be still, and the waves of the sea were hushed" (Psalm 107:29).
God won't flood the whole earth again. "I have set my bow in the cloud, and it shall be a sign…" (Genesis 9:13-15).
(More reading: Selections from Job 38 about how God is involved with the earth.)
What mom needs to know about the storm
Life's storms are teachable moments. Embrace them like you would a life preserver in a rising surge. Face uncertainties head on and talk to your kids with these truths in mind:
Closeness produces comfort. Just like we find comfort in feeling near our Heavenly Father, God gives children parents to protect and care for them. Show your child how you're prepared. Let them see emergency supplies and help you make a list. Physical nearness and touch help a child to feel secure that they are protected.
Media amplifies  anxiety. Monitor media feed into your child's imagination. Images and "hype language" on tv, the internet, and even your phone conversations may create or feed your child's anxiety. Limit exposure.
Stress accelerates learning. This is a teachable moment. It's an ideal time to take out the atlas and look at a map, plot your local fire stations, discuss the Jet Stream, and define "Hurricane." Talk about wise behavior in inclement conditions. Information diffuses fear.
Example trumps intentions. If we monitor media for our kids, but stay glued to the screen (large or small) ourselves, we send mixed messages. Children can sniff out a hypocrite! Tell your inner drama queen to go to Lord with fears you're facing, and invite your children to pray with you. Say out loud that you trust in God to take care of you. You are teaching life lessons for when your child faces a "storm" without you one day.
Some moms struggle with fears of their own in a natural calamity. Some will face loss and hardship. May the moms around you lift you up and support you in that day, and may we help our children learn how to respond to the storms of life.
After all, God said to His beloved ones in Isaiah 43: 1-4, "Fear not, for I have redeemed you; I have called you by name, you are mine. When you pass through the waters, I will be with you; and through the rivers, they shall not overwhelm you …For I am the Lord your God, the Holy One of Israel, your Savior …  Because you are precious in my eyes, and honored, and I love you …"
What comforts you when the tides start to rise & winds start to blow? 
By Julie Sanders at Come Have a Peace