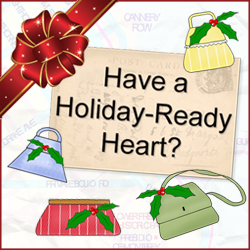 Maybe November and December are your two favorite months of the year.
Perhaps preparing for, living through, and cleaning up after the holidays don't phase you in the least.
You may have your Christmas shopping all done, your cards ready to mail, and your menus completely planned.
If these are true for you, then The PURSE-onality Challenge "A Holiday-Ready Heart" is not designed for you. (But please join us anyhow and give us your best advice!)
However, if you…

       
dread dragging out the holiday decorations…
wonder how what should be "the best of times" often ends up being "the worst of times"…
wish you could hibernate from October 30 'til January 1…
become overwhelmed by the commercialized chaos that tries to overtake your life in December…
cringe just thinking about spending yet another holiday with certain people…
feel like a failure because you never seem able to do everything "just right" for the holidays…
have an over-full calendar already (and the invitations haven't even started coming!)
wonder how on earth you're going to afford everything this season…
miss loved ones more than ever during the holidays…
want to focus on the real reason for the season…
…then you're invited to join The PURSE-onality Challenge: "A Holiday-Ready Heart – 31 days of intentionally pray-paring for the most peace-full, joyous, family-focused, meaning-filled holy-days we can possibly have!
For some, this may take just a slight tweak. For others, this will require a serious overhaul of how we approach the holidays in our hearts.
Each day, we'll examine an issue that often triggers holiday "baditude." We'll discuss how to maximize our own purse-onality strengths and intentionally meet the purse-onality needs of those we love. And we'll plan ahead to be already meditating on God's word and gratitude when the holidays roll around this year!
Join us for "A Holiday-Ready Heart" if you…
…want to do more than just "go through the motions" this season.
…long to focus on the true Reason for the season!
…desire peace on earth and goodwill toward others this Christmas!
Check out our website and Facebook page for the nitty-gritty details!
You'll also find four free PURSE-onality audio messages:
plus a free e-Book: Top 10 Priceless Gifts that Don't Cost a Dime for Each PURSE-onality!
Your Turn:  What are a few of your favorite things about the upcoming holidays?  Least favorite?  Family traditions?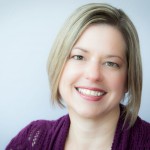 Cheri Gregory has been married to her pastor/teacher/musician college sweetheart, Daniel, for 24 years. The Gregorys are enjoying their newly "re-emptied nest" now that Jonathon (19) and Annemarie (21) are back in college.
Cheri is a high school English teacher and Christian speaker/author. Connect with her via Facebook, cheri@cherigregory.com, and www.CheriGregory.com.
Monday M.O.M. Initiative Link Up
Every Monday, we want to invite bloggers to link-up any blog posts that will minister to the hearts of women. All you have to do is enter the direct link from your post into the linky tool below!
Please be sure to grab our button on the sidebar and share our link on your blog so that other bloggers can join in too!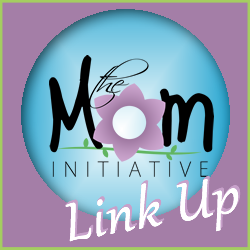 WE LINK UP TO OTHERS TOO! Today, we're linked up at:

Cheri Gregory is a Certified Personality Trainer; contributor to multiple books, including Wired That Way and 21 Ways to Connect With Your Kids; and frequent speaker for MOPS groups, women's retreats, parent workshops, and educational conferences. She is also a high school English teacher and graduate student. Cheri has been "wife of my youth" to Daniel (her opposite personality), a pastor, for over a quarter-of-a-century; they have two college-aged kids (who are also opposite personalities). She blogs about expectations, "baditude", and hope at www.CheriGregory.com. Connect with her on Facebook at www.Facebook.com/Cheri.Gregory.Author and Twitter @CheriGregory.
Latest posts by Cheri Gregory (see all)