One day, your child asks for a new toy, next its pierced ears. Then as she gets older, she wants streaks of color in her precious hair. Before you know it, she is asking about a tattoo. Pierced ears seem like a walk in the park compared to the "thou shalt not mar thy body" conversation. I remember sitting in church as a little girl, looking at a beautifully and intricately detailed unicorn on the woman's shoulder in front of me. When I asked my mom, she replied, "Ladies don't get tattoos. If you get a tattoo, you can't go to heaven." 
Strangely enough I believed her. For the rest of my adolescent years, I was saddened by every person I saw with tattoos because they were condemned to hell….until I learned Scripture for myself. The Bible states we are not to mar or cut our bodies, but this is in reference to worshipping other gods. It also says our bodies are temples. So how do we discuss tattoos with our children? Let's look at how Beth Vogt navigated the tattoo conversation with her daughter.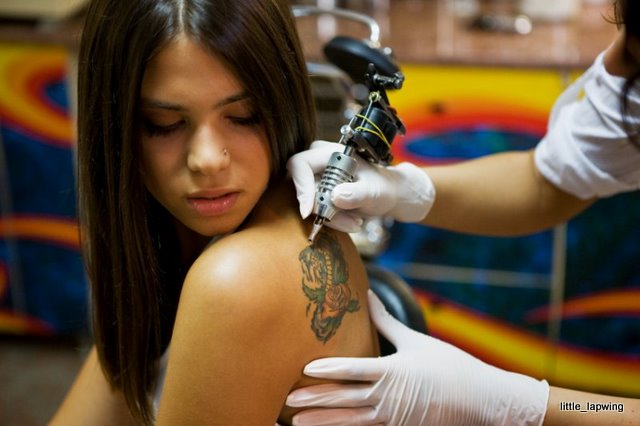 It wasn't like the topic of tattoos hadn't come up before – it had. But still, I couldn't help but wonder "Again?" when my husband and I faced yet another verbal tug-of-war with our daughter, Amy. She wanted a tattoo. And we didn't want her to get one. The reality was, Amy was past 18 – old enough that she didn't need our permission. The tattoo itself wasn't offensive: She wanted to get the Spanish translation of "Beloved" – the meaning of her name – tattooed at the base of her neck. And that was causing the problem. Why couldn't she be content with a nice, tiny tattoo on her wrist? What if she wore her hair up on her wedding day?
That night, Amy won our tug-of-words with a final, "I'm getting the tattoo. Tonight." As she walked out of the house, I turned to my husband and said, "Well, that didn't go the way I expected." He agreed. But no matter what the tattoo – and no matter where it was – we loved our daughter. 
Several hours later, as Rob and I sat in our bed reading, we heard Amy come in. She walked upstairs and into our bedroom, surprising us by coming to sit in between us, leaning back against the pillows. 
"I didn't get the tattoo." Her words were soft. "I want it – and I want it at the base of my neck. But you and Dad don't want me to get it there. And my relationship with you and Dad is more important than a tattoo. So I didn't get it."
Her decision that night surprised us. But truthfully, it's not the first time I've learned truth from one of my children. That night I learned that relationship is the most important thing. Tattoos – it's a personal decision. Loving my daughter – as she chose to love and honor me and her father – that's priceless. Eternal ~Written by Beth K. Vogt, author of several mothering books and her latest: Wish You Were Here.
Tips to Talk to Your Teen or Adult Child About Tattoos
1. Ask
Ask your child why she wants to get one. Does it hold some significance to him or her? Does this symbolism support the Bible in any way? 
2. What Would Jesus Say?
Instead of the ol' wwjd, ask them this; "If you were to stand before God after getting this done, what do you think he would say?" 
3. Support
Support your child's 'want' in terms of wanting to stand out, to be unique. However, tattoos aren't the way to stand out. Being a Christ follower already means your child is standing out. Look at your life style differences and point these out. These alone make your child stand on. 
4. Ask them to Wait. 
If your child is a young adult, they don't need your permission to get body art. However, ask your child to honor his relationship with you. Then proceed to ask them to wait. Wait until they are finished with college and have a steady job. Tattoos can and do affect employment opportunities  Besides they have the whole rest of their lives to get tattooed. If they are teens, aside from rational reasons — legalities, health, future careers — experts say it's also OK for parents to simply set limits based on what matters to them, as does the Bible in honoring his parents.