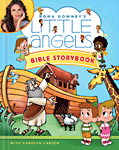 The M.O.M. Initiative loves to let you sweet moms know when resources come out that can help you as a mom. Today, we'd like to introduce you to Roma Downey's new book, Little Angels Bible Story Book with stories by Carolyn Larsen. We LOVE it!
With 100 well-written adaptions of Bible stories, this book gives parents a wonderful tool to help instill a love for the Word of God in their children. Each story is just the right length and contains a summary and three segments that compliment a foundation of biblical knowledge, application, scripture memory and prayer while also adding practical skills, such as the alphabet, spelling, numbers and colors.
Here's what you will find in each story…
I learned that…

(A summary of the story that helps ground your child's faith)
I can…

(Fun and educational activities to expand your child's knowledge and make learning about the Bible fun)
So I can pray… (A short prayer that relates to the Bible story to help children use scripture as a foundation for prayer)
A Bible verse… (Giving parents an opportunity to help children hide God's Word in their hearts)
One of the great things about this book is that it helps parents come up with practical ideas about how to live out what they just read…how the Bible story relates to each of us while instilling moral character, such as honesty, loyalty, friendliness and sharing, just to name a few.
Last weekend, my (Stephanie) little grandgirl, Kaitlyn, came over and she wouldn't let us put it down.  She loved it!
The book is not only well written, but it's well illustrated and very colorful. So, this is definitely one book we will be recommending for little ones!
You love the Little Angels animated DVDs from Touched by an Angel star Roma Downey! Now children can read along with their favorite Little Angels characters as they experience 100 best-loved stories from the Bible. With each Bible story, kids will learn simple concepts such as numbers, letters, colors, basic life skills, and moral lessons. The 100 Bible stories include fun illustrations and simple activities to encourage imagination and challenge children's cognitive skills. Also included are "life applications," short prayers, and verses from the New Living Translation that kids will want to hide in their hearts forever! Parents, grandparents, children's ministry workers, daycare staff, and anyone who wants to help young children build a solid faith foundation will find this book to be an amazing resource for encouraging kids to grow in God's Word.
The M.O.M. Initiative
would like to GIVE AWAY one sweet mom a copy of Roma Downey's new book, Little Angels Bible Story Book.
Leave a comment and/or subscribe to our site for your chance to win!