*
A flask of gunpowder and a bag of bullets were absent from this quick-draw-duel with my four-year-old son.
One child stood alongside me in the elevator nice and happy. The other stood determined on the outside not about to get in. His glare along with his high-pitched voice screamed his defiance as he stood his ground. He had been testing my authority all morning and saw this as yet another opportunity.
Time stopped as the showdown began.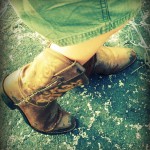 Who would win this battle of the wills?  As my mouth told him to get in, my brain cried out a prayer that this time he would listen to my voice, submit and obey.
He did not budge.
I calmly moved towards the "open door" button as the heavy, grey door started to close.
Well,  maybe due to my reflexes at 40 getting a bit rusty or a broken button the door mistakenly closed.  The elevator went down.
I could hear his shrieking above me as the elevator kept going down despite my wild attempts to stop it.  My trembling fingers raced frantically across the elevator keys.  Attempting to rejoin my screaming, terrified boy one story above me had me delirious. Finally, the elevator started going back up.
Ages seemed to go by as I waited for the door to reopen.
Finally, the door opened. And there was a second pair of eyes.
I can tell you with confidence; I have never met an angrier gaze than the one that flowed out of the stranger that held my crying son.  As my son and I reached for each other with our shaking arms, she slowly let go.  Spoken words were not needed for me to interpret her revulsion towards my apparent lack of parenting abilities.
How many times in our lives while simply trying to do the right thing (teaching my son obedience in an elevator gone bad) are we misunderstood by those around us?  My son's rescuer saw one piece of the whole ugly picture (I would never dream of leaving my child anywhere) and misinterpreted my intentions. Now my pounding heart began to hurt because of the stranger's apparent disgust.
What does God have to say about mommy moments like these?
"Every man's way is right in his own eyes, but the Lord weighs the hearts." Prov.21:2  –God knows my heart and my intentions.

"He has told you, O man, what is good; and what does the Lord require of you? To do justice, to love kindness, and to walk humbly with your God." Micah 6:8 –Be God focused, not people focused.

"But you, O Lord, are a compassionate and gracious God, slow to anger, abounding in love and faithfulness." Psalm 86:15  –Thank goodness!!

"Blessed be the Lord, who daily bears our burden, The God who is our salvation." Psalm 68:19  –He, the God of this universe, DAILY bears our burdens! 

In this world family, friends and even the stranger outside the elevator will misunderstand us.  I am thankful that  God looks at my heart, is gracious, slow to anger, and abounds in love and faithfulness.
 Of course, I am also thankful that my son is always the
first
to jump aboard every elevator now with a smile

!
✿Misunderstood.  Do you ever feel this way? What comes to your mind when you first hear the word?✿
*picture by freedigitalphotos.net
We're linked up at Women Living Well: