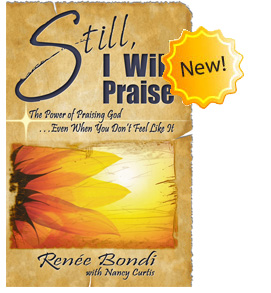 The M.O.M. Initiative loves to share real life stories of moms who have overcome tremendous challenges…moms who inspire us to keep our hearts fixed on Jesus regardless of our circumstances. Today, we'd like to introduce you to Renee Bondi. Please take a few minutes and read her story that answers the question…
WHEN NO ONE ELSE IS LOOKING, ARE YOU STILL PRAISING?
Fort Washington, PA—No one knows better what it's like to struggle to praise God when you don't feel like it than author and singer Renee Bondi, author of the new book Still I Will Praise:The Power of Praising God…Even When You Don't Feel Like It  (CLC Publications, September 4, 2012).
At age 29, Renée's future was incredibly bright. She was engaged and had a beautiful singing voice, a thriving career as a music teacher, and a loving family. But then one night a bizarre accident left her a quadriplegic. Renée lost not only all use of her arms and legs, but also her singing voice—she could barely speak above a whisper.
Through this, Renée remained hopeful and held tight to her faith. Her unbroken spirit and amazing physical progress baffled the medical field and even those close to her. She miraculously began to sing again and went on to live more fully than she ever dreamed, including marriage and giving birth to a son. Renée now encourages others to pursue a personal relationship with Jesus Christ through her speaking and her new book.
Praising God hasn't come easy for Bondi. She shares, "For most of us, praising God in difficult times doesn't come naturally.  We praise God on the mountaintop, not in the valley.  After becoming paralyzed, I found when I chose to lift my eyes and heart in praise to Christ, I experienced a much deeper peace and strength I didn't have before. Praising God changes my focus, which changes my mind and then my heart and ultimately my attitude."
Her book is filled with personal stories that emphasize how important worship has become in her life and brings to life some well-known and more obscure Bible characters who praised God in the good times and also in the tough times.
The book is divided into different scenarios a reader can engage praising God, including: in times of frustration, change, in times of insurmountable tasks, times of loss, waiting, loneliness, shattered dreams, worry, amazement, and others.
Says Bondi, "It's easy to talk about praising God when we're on top of the world, but unfortunately much of life happens in the foothills.  People who are ill, going through a divorce, or are jobless can relate to this book. I understand struggle, and I hope others will begin to take steps toward praising God even when they don't feel like it because it's through a posture of praise that we begin to recognize the abundant life that we still have in Christ."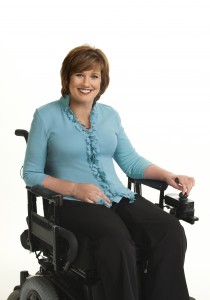 Renée Bondi is a popular speaker and recording artist who has shared the stage with Sandi Patty, Larry King and Point of Grace.  She has been featured in magazines such as Today's Christian Woman and Woman's World and on various radio and television shows, including "The 700 Club," "Hour of Power," and TBN. Renée has released six inspirational CDs and is the president of Capo Recording and the founder of Bondi Ministries. Among her many awards and honors is Woman of the Year from the California State Senate and recognition for Outstanding Service to the Community from the U.S. House of Representatives.  She lives with her husband and son in Southern California and to find out more about Renee, you can visit her website at http://www.reneebondi.com.