Subscribe today for your FREE copy of…
FACING YOUR FEARS – 31 STORIES FROM M.O.M.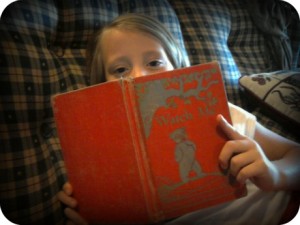 "Mom, what does e-n-o-u-g-h say?" asked my 7 year old daughter, Gracie.  She occasionally gets stumped while reading and will come running to me, like the house is on fire, asking how to pronounce a word she can't figure out.
I love when she does this.  She is a very independent little girl who rarely thinks she needs help. So, to have her come ask me for help is always encouraging.  This means she is teachable.  It means she is eager to learn the right way.  It means she understands that she doesn't know everything (that will change when she is 13) and because she comes to me it means that she trusts me for the right answer.
After observing my daughter I have to ask myself if I am teachable.  How do I respond when others offer advice or counsel?  Do I seek counsel from others?
As a mother to a houseful of kids I often get asked for advice from other moms.  There was a time when I thrived off of their questions.  I thought I had so much to offer because I thought I knew so much.  Thankfully the Lord brought me back to reality.  Anything good you see in my kids is not because of my excellent parenting skills.  It is because of God's grace & mercy playing out through my children. I want him to use me in the lives of my children and in order for him to be able to do that I must seek him for wisdom and have a teachable attitude.
"If any of you lacks wisdom, let him ask God, who gives generously to all without reproach and it will be given to him." James 1:5
I love how James words this scripture.  God gives generously to all who ask.  There is something very important in the asking for wisdom.  Like my daughter when she asks for help, it says a lot about those who ask God for wisdom.  We acknowledge that we do lack wisdom and we trust God to give it and to give without reproach! That means he doesn't remind us of how sinful and undeserving we are.  Don't you just know that he is thrilled we are coming to him and asking!
As a mother, I must ask for wisdom every day.  There is too much going on with my children for me to know how to handle it all!  The enemy is to ready to pounce on me and I need all the help I can get to defend his nasty attacks.
How do I ask for wisdom?  I ask!
I have to be still and quiet.  I know, I can hear your grunts. How does a mom with little ones ever get to be still?  I'm not talking about your body, I'm talking about your spirit.  I have had some of my best God moments while utter chaos is going on around me.  Just me & God in the middle of my sweet, noisy  blessings! He hears me.  He knows me. He answers me.  He is so faithful to quiet me with his love in the midst of craziness.
It doesn't always happen like that.  I do enjoy quiet times even if they have to happen in my closet. I need solitude on occasion, but I just want you to know it isn't required to receive God's generous helping of wisdom.
I pray you will seek the wisdom of God and experience him in a whole new way today!
By: Dana Bailey