Subscribe today for your FREE copy of…

FACING YOUR FEARS – 31 STORIES FROM M.O.M.
Have you ever met an extraordinary mom? One that catches your attention, and whose story amazes you? This series introduces you to a few unique moms living amid various trials.  
Have the challenges that have crept into their lives strengthened their faith or crushed it? How is God working in their families?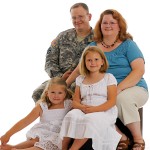 Joanna Rummel married her loving husband David 20 years ago. He has faithfully served in the military as long as she has known him, and is still serving.
This past April was joyous as David came home to his wife and two daughters after serving in Afghanistan for nine long months.  Just the year before David was deployed seven months.
As you can imagine, having her closest companion gone for these long amounts of time brings countless limitations.  Here are some of the few:
Wives and children cannot call their loved one. Waiting expectantly for a longed-for phone call can be exhausting.
 All the household responsibilities from yard work to plumbing belong to the wife. This is especially difficult when there are no grandparents or family nearby to help.
Parenting tasks are completely up to the single parent. A typical day may look like this:  Wake the tired children up at six,  zoom to school, scurry off to work, bring tired kids home, prepare and serve dinner, get everyone ready for bed, then wake up the next day just to do the same.
Life is very lonely.  Some military wives look forward to going to work after  lonesome weekends at home just to have adult conversation.
And this just scratches the surface.
Amid the heartache of her husband's deployment and the overloaded, lonely days God spoke to Joanna.  The words of Psalm 121 comforted her as she gazed to the Smokey Mountains, "I will lift up my eyes to the mountains; from where shall my help come? My help comes from the Lord, who made heaven and earth."
Deuteronomy 31:8 assured Joanna, "The Lord is the one who goes ahead of you; He will be with you. He will not fail you or forsake you. Do not fear or be dismayed."
She spent the lonely time praying that her Heavenly Father would be real in her children's lives.  He abundantly answered her prayer.  It was during a deployment that her oldest daughter became saved.
How can we be personally involved in easing the burdens of military moms?
Recognize how lonely being a single parent is.
 Let these moms know you are praying for them.
Send cards thanking them for their service.
 Take the family out for a bite to eat.
Help break up the long weekends by inviting them over.
The M.O.M Initiative wishes to thank you, Rummel family, and all the other military moms/wives for your sacrifice!
Here is Joanna's personal blog where you can read more about her journey!
❀Are you a military wife? What has been your biggest encouragement?❀
*photo by Randy Sartin