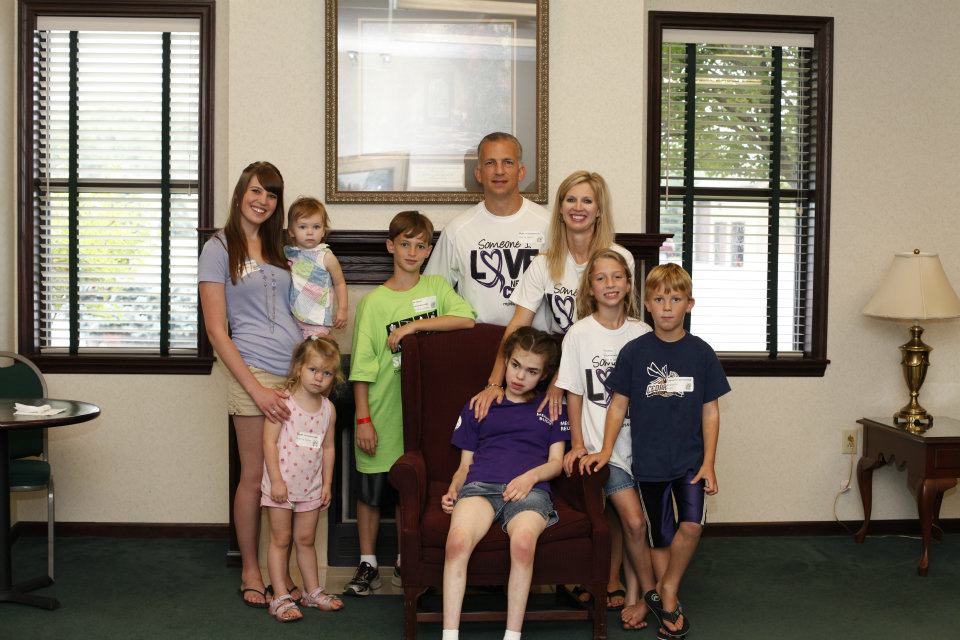 Whenever I meet someone new and they discover I have seven children, often there is a gasp and "How in the world do you do that?"   And then when they further discover, if time permits, that one of my children has a life-threatening illness, the question comes: "How do you cope with that?"
I suppose I should first make the disclaimer that this was, and is,  a growing process for me. (Oh, and the photo above was on a very busy day serving at church.

)  I didn't have seven children all at once (Whew! Go septuplet Moms!) My oldest daughter, now 21, became mine through marriage and was 8 years old when I became her stepmom.   And though Taylor, my special needs daughter, was my first child by birth, we didn't receive her terminal diagnosis until age 4. While the average life span for MPS, her disease, is 10-15 years, I'm very blessed to tell you that while she has many problems, they could be much worse.  We are privileged to be celebrating her sweet sixteenth birthday in a few weeks, as God would have it.  He is so gracious.  My "younger" children are ages 10, 8, 7, 3, and 16 months.  Needless to say, we have a hoppin' house.

When others ask me "How do I do it?" several topics come to mind.  Essentially, I believe this question is generalizing a load of questions.
Today I'm sharing a quick three answers, both practical and spiritual, to caring for large families and meeting individual needs.  Please believe me when I say that I have not arrived, by any means.  But after 16 years of rearing children and caring for a special needs child, and 12 years of being a stepparent, here are just three highlights that I believe will help you tremendously as a Christian mom.
1. Rely on God's Word to feed you daily.
I cannot emphasize this point enough.  God took me to the point of being on my own completely with my sweet special needs girlie and I learned to rely solely on Him.  Not a church, not my parents' faith, not what someone told me to do. My faith and trust for eternal life was in Him from the time I accepted Christ as my Savior when I was six years of age.  But trusting God to meet all of your needs- physical, spiritual, emotional, etc. has to occur on a DAILY basis.  Without time in the living Word, I find myself unwilling and too weak to be the mom He has called me to be.
2. Accept help.
This was tough for me! I love being able to do everything myself. I want to be the need-meeter.  My tendency is to want that "S" on my shirt to stand for Supermom. No missing library books, no toilets left behind, no dirty couches (that's the big thing that needs attention right now. ;0) ) The truth is: I can't do it all.  So I have to decide what is important enough for me to do and what can be passed on to others.
3. Focus on the positive.
My husband will vouch for this fact: One negative thought can send my mind into a swirl of negativity.  When I allow Satan to get a foothold in my thought life, even with one "little" thought, then my husband and family are affected, not to mention making myself miserable. When facing heavy obstacles of life, weigh the circumstances and then purposely decide to look at the positive points of the situation.  Once you see the positive, remain focused on it.
I would love to hear from our readers today!
What is one method you've found as a mom to persevere through either handling large family logistics or meeting individual needs?
Rachel- RachelWojo.com
Linked with TheBetterMom today