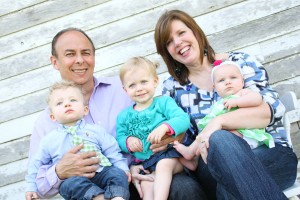 Hi sweet moms, Steph here. I'm super excited to share with you an interview with someone who has become near and dear to my heart. Suzie Eller. I 'met' her a couple years ago through cyberspace when we were both new grandmas and not long after that I was blessed meet her in real life at She Speaks.
Suzie's love for God and her passion to minister to the hearts of women drew me to her. She radiates with the love of Jesus and she truly is inspiring.
Suzie Eller is a Proverbs 31 Ministries speaker and writer. She's published five books, and her next book, The Unburdened Heart: Finding Freedom Through Forgiveness, will be released in March, 2013. She's published hundreds of articles on issues of faith, family, and more in magazines such as Pray, Parenting Today, and Guidepost. Suzie is a radio co-host for Encouragement for Today, and has been a guest on Focus on the Family, Aspiring Women, The Harvest Show, and many other radio and television programs.
She is also the founder of Moms Together (www.facebook.com/MomsTogether), a Facebook moms ministry that is only one and half years old, but is mushrooming in growth. Suzie joins us today to share more.  
Stephanie, it's a community of 10,000+ moms from every state in the U.S. and 30 countries across the world. But it's smaller than that.
What do you mean?
From the beginning it was intended to be a place where moms can connect with other moms five days a week. It's not like walking into a conference of 10,000+ women. It's like sitting across the table with friends.
Being a mom is amazing. It's one of the most beautiful privileges that we have, but it's also tough at times. A baby fights sleep when a mom is chronically sleep deprived. A mother of a teen wonders why her daughter has stopped talking to her. Sibling rivalry makes you want to pull your hair out.
Sometimes you can feel isolated, or that you are the only one who has one of those days with our child.
I wanted to create a place where moms would receive great information, but more than that, to find a community of praying, encouraging, supportive moms of all ages.
My hope is to help moms not to feel alone.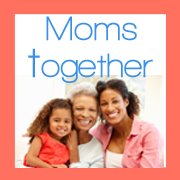 I had blogged for a large parenting site, but I wanted something more intimate. I also wanted a diverse site. I'm a "seasoned mom" (smile). My children are grown, and at that time I was a new Gramma.
So I created a non-profit "page" on Facebook.
I invited a few people that I really respected to join me as co-hosts, and that included women who had special needs children, adopted children, children of different ages and stages.
Moms Together is set up almost like a radio program. It pops up on our mom's Facebook feed five days a week from 9 until 3. Like a radio show, the MT team share a daily parenting topic. That might include an expert or guest interview, and moms are invited to jump into the dialogue.
And they do. What I love most is that our moms don't just relate to the topic of the day, they relate to each other. We might have an expert guest, but it is the moms encouraging each other saying things like, "Oh, I know what you are saying. I went through that with my oldest. Hang in there. It gets better!", that make this a thriving community.
On some days there are giveaways. That is a really fun part. As an author of parenting books, I could offer a free book now and then, but as we grew publishers and companies started sending us free products. That has been a lot of fun to share with our moms!
Was it a challenge to get the word out?
We began with 200 members. Most of those followed me and two others from different parenting sites. My hope was that it would grow to 500 or even 1000. We were at 5,000 before I knew it!
Just this past month we grew to over 10,000 and we've just been doing this for about 18 months. I don't know how large we'll grow, but I believe we'll be 20,000 by Christmas and who knows where we'll grow from there.
We've never advertised. Never tried to push Moms Together on women. It simply spread through word of mouth. I think that is the most exciting part of all. Moms are there because they want to be.
Have you grown in other ways?
Absolutely! My team has grown. I just added some really great co-hosts, like you (our mentoring mom) and Jennifer Maggio (single moms), Blythe Daniel (mom of multiples) and LaToya, who writes for Roo Mag (for both single moms and homeschooling moms).
This added depth to the rest of our team including Laurie Wallin, who is a life coach and mom to bio, adopted, and special needs children; Carey Wiggins Scott, a speaker and writer who is a mom in the trenches with school-age children; and Laura Polk, a funny, talented writer who is our working mom.
I feel as if we have one of the strongest, most diverse faith-based team and mom communities anywhere.
Do you think that you'll grow Moms Together off the Internet?
I've had several people suggest that I should create conferences, or a Moms group for churches, but that's already in place. There are organizations like Hearts at Home or MOPS or Moms In Touch that are doing that, and doing it well.
Why would I compete? Instead I hope that Moms Together can partner with those organizations and connect moms with those great conferences and resources.
My goal is to keep it "small", no matter how big it gets, and to make it accessible to moms every day. You can't get much more accessible than Facebook!
Behind the scenes I do dream with my team. My next goal is to create resources for moms that are inexpensive and practical. I plan to create a series of Moms Together EBooks on topics from helping your baby sleep to having a "good fight" with your teen to how to deal with an empty nest. Practical books that come alongside moms right where they are.
There are other dreams for resources and practical help and encouragement, but right now I'm under a book deadline so everything is on hold (smile). Some days I feel as if I'm running as fast as I can.
Since I started Moms Together, my own family has mushroomed. I've had three grandbabies in the last two years, and one more is due in November. Those babies live in three states. With book deadlines, co-hosting on Encouragement Cafe, speaking and writing for Proverbs 31 Ministries, and family, life is as full as it can be. . . but in a really great way.
Thanks, Stephanie, for allowing me to share about Moms Together with your moms. I'm a huge fan of The M.O.M. Initiative and pray that it grows to influence moms and their children all over the world.
~~~~~~~~~~~~~~~~~~~~~~~~~~~~~~~~~~~~~~~~~~~~~~~
(And a big THANK YOU to Suzie for popping in and sharing about Moms Together! If you haven't already connected, please be sure to click on the link and join the conversation where moms are doing life together at Moms Together.)
 What about you, sweet mom? Have you already connected with Moms Together? If so, we'd love to hear about it!