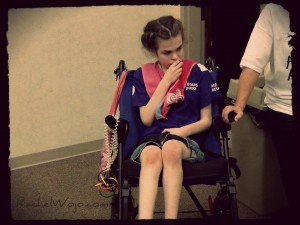 Motherhood can be lonely. Can't it?  I mean, who counts the places that they've nursed a baby? (raising a sheepish hand.)  Who cheers for their toddler going potty and makes a phone call to Daddy while he's working just to brag on it? (the other hand…)
While we know other people travel these roads, it can seem like not another soul is on the same journey that we are as parents.
Parenting came seem to be a lonely job. 
But can I interject that being the mother of a special needs child is even more lonely? 
Those feelings of
"Our family can't do those activities because there is no wheelchair access."
Or "Have you noticed the Jones' are not comfortable around our child's difficult behavior?"
Even "There is no place for 'Johnny' to enjoy church worship so one of us will have to stay home."
Today I've outlined five easy ways to help a special needs family feel less lonely and more a part of your community, society, and especially, church.
1. Observe the number of people attending who need handicapped parking and have enough accommodating parking spaces for those attending.
2. Be sure your building has wheelchair accessibility. Consider ramps or touch mechanics in order to assist those who need an extra helping hand.
2. Make a room available for special needs children and their parents to watch the services/ activities on screens so that they can still physically be in attendance. Many churches use a "family worship" room for this.
3. Have wheelchair seating in your auditorium to accommodate families.  Take out half a row of chairs or half a pew, whatever you need to do to make seating appropriate for a family to sit with their handicapped loved one.  To have the opportunity to sit together in church as other families is priceless.
4. Pray for those families.  Know their names and enter them in your prayer journal. "I'm praying for you" goes a long ways.
5. Simply ask them about their needs.  In order to minister to them, the needs have to be known.  In short: "Is there anything the church can do to help your family with your child's special needs?"
The body of Christ need never feel lonely; we are all the hands and feet of Jesus.  While He is with us every step in this world, He uses each of us to minister to one another.
I would love to see your answers to this question:
What is your organization doing to reach out to families with special needs children?
Rachel- RachelWojo.com