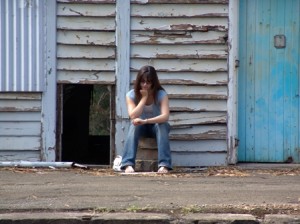 I was a new mom trying to nurse my daughter and she wasn't latching on. On the verge of tears, I wasn't helping the situation by getting discouraged. My husband Mike tried to encourage me, while I tried to remember what the nurse told us…
It wasn't supposed to be this complicated, was it?
God, please help, I prayed. Pleeease help this to work…
How could something so natural be so hard?
Worry started to set in and I wondered how things would turn out. What if it doesn't work? What if I can't do this? Here I'd been a mom for only a day, and already I felt like a failure.
"Let's take a break and try again later," Mike said. Sadly, I handed Katie over to him and wiped my eyes.
And that's what we did: take breaks and try again.
And again.
And after a couple of days, my daughter (and I) eventually got the hang of it. Nursing even became easy. But there have been many times as a mom since then that I've been tears-down-my-face weary and things haven't turned out exactly the way I'd planned or hoped.
It's been during those times that praying and leaning on God has made all the difference…
But he said to me, "My grace is sufficient for you, for my power is made perfect in weakness." Therefore I will boast all the more gladly about my weaknesses, so that Christ's power may rest on me.  -2 Corinthians 12:9 NIV
It sounds kind of backwards, doesn't it?… Power being made perfect in weakness. But somehow, that's truly how it works. When we are weak (or frustrated, or discouraged, or stressed, or weary), He is strong. And leaning on Him gives us strength too.
That's good news for moms, because parenting isn't easy, right? We try, and we try again, and sometimes things turn out great. But sometimes they don't. We all face challenges in life, and so do our kids. But it's then–smack in the middle of those hard times, when we realize we are less than able—that God's grace makes all the difference, that His power really is made perfect in our weakness.
He, above all, knows what hardship or difficulty is, and understanding that can help us rest in the assurance that things will work out. Even if they don't seem like it at the moment.
What about you? Are you frustrated as a mom today? If so, don't get discouraged. Reach out to another mom and share what you're going through. And take comfort in knowing that God really can give you the strength you need.
A mom's prayer: Lord, I'm frustrated today. Please help me and give me strength. Keep me from getting discouraged. Amen.
By: Genny Heikka