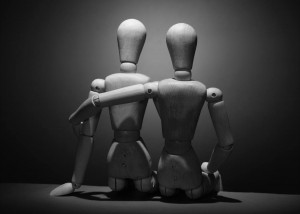 Awhile back Facebook, in its infinite wisdom, recommended I reconnect with a friend I hadn't heard from in quite some time. It turned out my friend's family had experienced some tough times. When she thanked me for my prayers, her comment caught me off guard. She said, "It's not often we're missed."
My heart broke for my friend, not just because of her difficult circumstances, but because she seemed alone in her struggles. I was reminded of Philippians 2:4, "Each of you should look not only to your own interests but also to the interests of others." How important that message is to remember!
In my experience I have noticed sometimes when a friend or a loved one goes through a difficult circumstance, like a prolonged illness or a death in the family, we don't hesitate to reach out to their immediate needs, but then as time goes on we get uncomfortable and we no longer know the right thing to say or the right thing to do. I think that's natural, because we know that nothing we say or do will make that particular heartache go away. In an odd conundrum, we're afraid both to bring up happy memories and to speculate about the future, because we're afraid either position could upset the person. And so what happens all too often is that we say nothing at all.
Don't let anyone fall through the cracks. Don't leave it to Facebook to nudge you to minister to those in need. In truth, looking to the interests of others is really quite simple to do.
First and foremost, pray. Pray that God would reveal to you who has a wounded spirit. Ask Him to show you to whom you can be His hands and feet and how to go about the task.
Pray some more. Pray God's guidance over the situation, that He would give you words to speak and help you know exactly how to minister to those in need.
Keep praying. Pray that the other person be receptive to your offering. Sometimes people are so hurt they trust no one, even those with sincere intentions, or they are so angry with God they reject help of any kind.
Once when I went through a loss, my brother told me, "I'm sorry I've been so quiet. I just didn't know what to say, so I didn't say anything. But I'm here and I love you." Sometimes words fail us. My brother didn't have words to make it all better, but he did let me know he was at my side. Simple little acts of compassion can lift someone from the gutter. Smile when you greet him or her. Text a word of encouragement. Call out of the blue. Drop off a sweet treat.
Remember others. Be receptive to God's whispers and hear broken hearts crying out. Let those who are struggling know they are loved. Don't let them feel that it's not often they are missed.
By: Jodi Whisenhunt. Come think outside the textbook with me! Expand your home classroom and learn while you play when Disney IS school at Magical Mouse Schoolhouse!