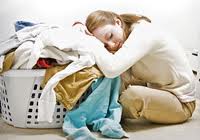 Do you ever feel like you're just too tired to be Mom? Like you know you should say "No" but it's just easier to say "Yes"? Like you really wish they could fix their own breakfast so you could sleep in? Like you're too tired to do the mountain of laundry and so you sniff to find the freshest smelling clothes in the pile and then commence to throwing them over your children's head as you rush out the door to drop them off at school? Or like you could care less that you can't figure out what type of food it once was that is now smeared into the floorboard of your minivan?
Let's face it… it's not easy being a mom.
We may want to pretend like we're Wonder Woman with a golden lasso and bullet proof silver armbands, but when we can barely see our eyes through the puffy bags protruding from beneath them, we are left with the cold stark reality that we really can't leap tall buildings in a single bound and that we can't toss our magic tiara through the house in hopes that it will somehow magically return onto our heads after leaving our whole house spic 'n span.
Long days and sleepless nights leave moms wondering if they're just too tired to be Mom.
Perhaps you're feeling like that today. You want to get some shut eye but you can't seem to find the time to rest. You tuck your kids in bed at night but stay up wee hours trying to get everything caught up while they're asleep. You just wish you could check out for a day or two just to get some sleep and then you might be able to tackle the mom thing again. Or maybe you just wish you could get a good nap in.
For every mom who is too tired to be mom, here are six things you can do to make sure you get some much needed rest.
1. Go to bed within an hour after you tuck the kiddos in. It's going to be tough at first… especially when you're used to staying up late and getting everything done. But you need sleep. Not just for your own body but so you can be the best mom possible tomorrow. So, set the time clock and tuck yourself in bed within an hour after you tuck them in.
2. Nap when they do. I know you have a lot to do and when they are sleeping it's often the best time to get things done. But if you're tired, you need to get some sleep. So, just take a nap occasionally when they do and you'll feel refreshed.
3. Divvy up the chores. Moms often try to do it all and find it very hard to ask for help. Some moms even feel guilty about giving their children chores. It's important to teach your kids the responsibility of helping around the house, so when you give them a list of things you want them to do, they may not like it, but you really are being a 'good' mommy and teaching them the importance of responsibility and teamwork.
4. Create a family day out so you can have an hour or so in bed. Organize a day in which your children all go to a friend's house for the day or even for half a day and then go home, crawl in bed and catch some zzz's. You can still go do things you don't normally get to do without your children underfoot but sleeping definitely fits into that category. So take about an hour or two and get some sleep and you'll still have time to go to the store and enjoy looking through the clothes without hearing a sweet little voice saying, "Mommy, can I have…..?"
5. Unplug. Sometimes we just need to unplug. Unplug from the television, the computer, Facebook and Twitter. With all the constant barrage of social media, technology and entertainment, it's hard to slow our minds down long enough to really rest. At times, we need to unplug from all things tech and just relax our hearts and minds. We need to give our minds a chance to rest and when we do, our bodies will follow suit. Unplug, and get some rest. Facebook will be there when you wake up.
6. Give yourself a break. You really don't have to do all and be all. The spices don't have to be in alphabetical order. Every sock does not have to be neatly cupped into its match. Every dish does not have to be put into the cupboard and no one is really going to come over and eat off your floor. Give yourself a break. You're human and you live in a house with kids.
Life may get messy but it's in the mess where the memories are made. So get some rest and enjoy it!
"It is in vain that you rise up early
    and go late to rest,
eating the bread of anxious toil;
    for he gives to his beloved sleep." Psalm 127:2
We all need sleep but moms stay so busy that they often don't get enough. We can only run on empty for so long. We need to refuel so we can be refreshed. We need to be refreshed so we can face a new day as the mom our children deserve.
Do you struggle with feeling like you're too tired to be mom or with getting enough sleep? What can you do to make sure you get some rest?