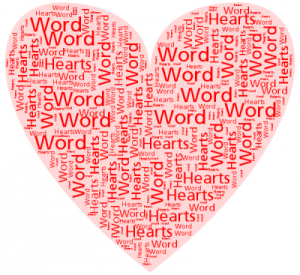 For the last 60 days, I've been watching my words. They've told a lot about the condition of my heart.
During May's The PURSE-onality Challenge (and now June's TPC "lite"), I've blogged almost daily about my journey of "replacing 'baditude' with God's word and gratitude."  Using my Complaint-Free bracelet, I've been intentional about curbing complaining, criticism, gossip, and even sarcasm.
My goal has been to become aware of my "baditude" habits so I can surrender them to God and replace them with scripture and praise.
A Change of Heart
During the last few weeks, despite typical end-of-the-school-year chaos, I've been experiencing the oddest sensation.
At first, I was worried that I was "checking out" or "numbing" (both residual "skills" from my eating disorder days.)
But no, each time, I was fully present.
With prayerful reflection, I'm finding a few words that seem to fit:  Calm. Open. Spacious.
My heart tells me that a ton of junk has been removed.
And for once in my life, I don't have the urge to fill up the "empty" places left behind. In fact, I'm enjoying breathing more deeply.
No, life isn't perfect.
But when I make a mistake, the words, "How could you be so stupid?" don't pop into my mind (from my heart) or out my mouth.
When my schedule changes, I don't feel–or heartily complain–as if I've been horribly blindsided.
When things go wrong, accusations and contempt are no longer my knee-jerk (and heart-felt) reactions.
My heart is saying that it has more acceptance and compassion for others. (And, perhaps more importantly, for myself!)
A Simple Heart-Check Challenge
Oh, how I wish I could turn the clock back two decades and experience this growth before having children! How stifling it must have been for them to live in a house filled with my "baditude" during their formative years.
(The impact on my husband and marriage is a whole 'nother blog post!)
I'd like to challenge us to try this awareness exercise, especially if we have children still living at home.
Not a sweeping change or life overhaul. Just one day of setting a timer and recording our inner/outer dialogue and prayerfully pondering its impact on ourselves and others.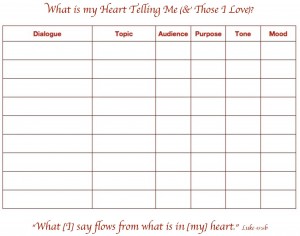 Set an hour timer when you first get up.  When the timer goes off, record:
Dialogue: a summary of what you're talking about, aloud or to yourself
Topic:  who or what you are talking about
Audience:  who can hear you
Purpose:  the aim of your words (story-telling, description, persuasion, information;  venting, being heard, problem-solving, brainstorming; get attention, remove responsibility, inspire envy, power, excuse poor performance, etc.)
Tone:  the emotion(s) in your voice (here's a list of tone words)
Mood:  the emotional impact of your words on those who can hear you (here's a list of mood words)
Do this 9 times throughout the day. And then take a prayerful look at the results.
Is your heart telling you that it's overflowing with peace and joy? Praise God for consistent victory over natural inclinations!
Is your heart telling you that it sometimes overflows with…er…"other stuff"? Praise God for conviction and increased awareness of your knee-jerk reactions!
In Part 2 (coming in two weeks), I'll share some of the very practical intentional choices I've been making to "change my mind" as God exchanges my heart.
And I will give you a new heart, and I will put a new spirit in you. I will take out your stony, stubborn heart and give you a tender, responsive heart. Ezekiel 36:26
What tone(s) do you use when talking to yourself? 
What mood(s) do your words create for those who live in your home?
What changes would you like to see in your dialogue with your self and/or those you love?