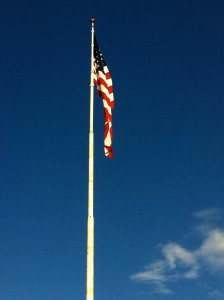 Today is Memorial Day. The day our country takes a break and celebrates. But often we forget what Memorial Day is about. Perhaps we as mothers need to remind our kids about our country's past. We need to remember the whys behind our national holidays and pass on the whys and traditions to our kids.
Here is how I talked to my kids about Memorial Day.
"Why do we celebrate Memorial Day?" I asked my kids while we ate lunch.
"To honor our presidents?" my nine-year-old asked.
"No," I shook my head, "but good guess."
"To celebrate Christmas," my four-year-old said beaming.
I stifled a laugh, "Nope not to celebrate Christmas. Any other ideas?"
All three of my kids shook their heads. "We celebrate Memorial Day to remember those who died protecting out country. We honor men and women in the military who died fighting to protect us by remembering their sacrifice. They are heroes and they died. So Memorial Day is a way of thanking those who died and their families who lost loved ones. Do you know who I think about the most during Memorial Day?"
"Jesus?" my four-year-old offered.
I shook my head.
"Our pastors?" my five-year-old tried.
"Nope. My uncle. Remember Grandmother's brother died in the Vietnam War before I was born. His name was Waylen. We remember men and women like him and their families on Memorial Day."
We will celebrate memorial day by grilling out with some friends, but I wanted my kids to know why we celebrate soldiers who gave their lives for us.
How does your family celebrate Memorial Day? What have you done or said to help your kids understand Memorial Day? I can't wait to hear your ideas.