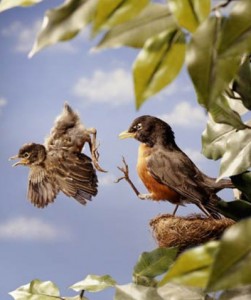 How painfully hard it is to watch as the momma bird nudge her little babies out of the nest. They desperately try to cling to the wiry branches that had once been meticulously placed there by their parents. It was their home… all they ever knew. They were carefully cared for while they nestled in the twig-lined tree house yet a whole wide world awaited them beyond their little bungalow suspended between two limbs.
But it's time for her babies to soar. It was what they were created for.
It's ironic, you know? You raise them up to let them go. I know it's how it's supposed to be but the silence can be deafening.
I loved every minute of having my children at home. Even the difficult times. They were safe in our little bungalow made with cinderblock walls and ceramic tile floor. It was a place where laughter echoed through each room and joy was in the air. It was where we did our best to instill faith for the uncertain days they were certain to face. It was in our home where we challenged them to stand strong, taught them right from wrong and held them in our laps as we gathered to watch our favorite family television show.
But things were changing.
I had been a homeschool mom.  Eleven years of book fairs, planning curriculum, organizing field trips, teaching at our local homeschool co-op and best of all…treasured time with my boys.  It all came to a screeching halt and I was hurled like a discus into a new season of life.
It's ironic but the empty nest was the goal. Why did I not realize that? What would I have done differently if I did?
I would have worked harder at parenting the adult they would become and not just the child they were.
I would have searched more diligently for a mentor to help me in my journey as a mom.
I would have looked for more ways to strengthen their talents and feed their dreams.
I would have definitely bought that camcorder we couldn't afford and captured those Kodak moments for generations to come.
I think I would have taken Midol so my children wouldn't have to experience my monthly hormonal meltdowns.
I would have taken more trips to the park and spent more days at the beach.
I would have basked in the beauty of a midnight sky as we counted the stars and conversed about the Creator.
I would have spent less time cleaning the grout in my tile, scrubbing the baseboards and organizing the linen closet.
I would have never told them to quit laughing.
I'm not sure how the years flew by so fast or when my boys became men but I know I miss them like crazy every day.
The empty nest is so ironic. It's really the goal and yet, when our children are home all snug in their beds and life revolves around baseball practice and guitar lessons, we don't even realize it.
One day, sweet mom, it will by your children's turn to soar. It's what they were created for. Your job is to prepare them to trust God for their journey, to fly above their circumstances, to keep their wings strong and their hearts clean and to find shelter from the storm under the Shadow of the Almighty when the winds begin to batter their soul and weaken their resolve.
My friend, Gina Smith writes her blog at www.keepingitreal.com. Last week I read a beautifully written expression that echoed my own thoughts and brought tears to my heart. It's called, I Blink. Click on the link and take a few minutes to read through it and I think your own heart might shed a tear or two too.
Oh…by the way, your heart may hurt when your nest is empty, but your children have a way of filling it back up again with grandchildren! Yeah… did I mention how sweet it is to be a grandma?! 🙂
Stephanie Shott is the founder of The M.O.M. Initiative, a ministry devoted to making mentoring intentionally missional. She is an author and a popular speaker who helps women live full, fearless and faithful lives. To invite Stephanie to speak at your next event, visit her website at www.stephanieshott.com. To find out more about The M.O.M. Initiative or to begin a M.O.M. Mentor Group, visit www.themominitiative.com.
Latest posts by Stephanie Shott (see all)