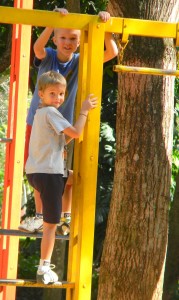 A walk to my mailbox yesterday revealed a rose about to bloom. A clematis vine winds its way up the porch, hanging with purple blossoms. Even the fungus on the stump has gone from espresso cup to soup bowl size in a matter of days. If growth is the symphony of springtime, our children take center stage.
It's time for mommies everywhere to set aside their ironing baskets, resist spring cleaning, and turn off technology in favor of embracing this season of growth with our children.  Including these 7 essential ingredients in your spring will help you make the most of this season of growing.
7 Springtime Ingredients for Growing Children
G – God: Psalm 19:1-6 describes how nature tells who God is and what He's like. As all of creation awakens at once, it's the perfect time to help children turn their thoughts to the Maker of heaven and earth, see His nature in the wonders, and praise Him for being so creative. Don't miss God in the glory of springtime!
R – Reading: Spring gives a mom a lot to work with in motivating children to read. Visit your local library for books about seeds, weather, earth worms, life cycles, baby animals, and new life. I personally love Dr. Seuss, "O Say Can You Seed." Use the new season to feed your child's mind.
O – Outdoors: Fresh air and breezes invite us to step outside. Don't let allergies or bugs stop you! Put on play clothes and sneakers and get outside with sidewalk chalk, a ball, a kite, or a blanket. Unless it's a rainy spring day, make it your goal to get outside each day. Take your meals, your lessons, your chores, and your special occasions outdoors.
W – Walking: Couch potatoes thrive in winter. Once the weather changes, take advantage of the chance to move and be active. Moms have to model motion for children to learn healthy habits. Instead of just "sending kids out to play," get out with them. Walk with other moms and kids, meet new friends in your neighborhood or playground, or use it to catch up with your husband.
I – Inspiration: Like plants coming to life around us, creativity blossoms in springtime. No other season has such a wide palette of colors or variety of songs as its background. Let the array inspire you and your children to be artistic. Have a basket of paints, paper, craft materials, musical instruments, and miscellaneous items on hand for inspired moments.
N – Nurturing: Take a cue from the duck at the park and use the springtime to nurture your ducklings. It's the ideal season to let children follow you and enjoy the shelter of your wings. All too soon, they'll lose their downy feathers and take flight, so enjoy your brood in this season reserved for motherhood.
G – Gratitude: Find a sunny spot under new leaves, and soak in the sweetness of motherhood. Images will sneak in like mounds of laundry, stains on carpet, and late night feedings … block those out! Listen to the sounds of your children, take in every detail of their faces, watch with wonder at what they've learned. Be amazed and grateful that you are a mother.
So many times throughout the year, we let daily things cause us to miss the wonders of mothering our growing sprouts called children. This spring … enjoy.
Julie Sanders
and her husband just relocated from the land of sweet tea to the Inland Northwest. The mom of two college students, Julie loves mentoring women around the world, bringing justice to the vulnerable, and teaching God's truths for life. Julie was blessed when seasoned moms walked the marriage and motherhood journey with her and is grateful "grace abounded much more" (Rom. 5:20) than her failures. She is passionate about fighting human trafficking and is the author of Expectant: 40 Devotions for New and Expectant Moms. Join Julie at
Come Have a Peace
, on
Facebook
,
Twitter
, or
Pinterest
,
and don't miss
Marriage Mondays
. She invites you to
contact her about speaking
at your women's event or mommy meeting.
www.juliesanders.org
Latest posts by Julie Sanders (see all)