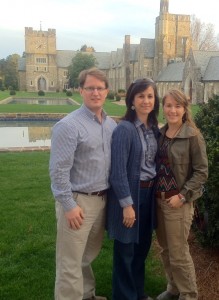 Last Friday we took our daughter on a college visit. Serene lawns and still hallways echoed the time  year:  Spring Break. As we toured the campus, thoughts about our sweet girl's future exploded in my mind like kernels in an air popper. I longed to see some students as evidence that when kids grow up they're okay. But they were on Spring Break.
Inside the dorms, our guide was kind (bold? crazy?) enough to show us several rooms where it looked like the Rapture had taken place. Books, guitars, clothes, pizza pans, and shoes littered the floors and beds. There wasn't a single suitcase or student in the dorms; they were gone. To where? Home? Daytona Beach? Mission trips?
Wherever their destination, the journey is one of growing independence and decision making. It's a time of learning how the path we choose determines our destination. I doubt any of the young adults who ate the pizza from the dirty pan were thinking about that when they made their escape, but I'm a MOM. It's what we do. They just went on "Spring Break."
Last week we talked about Parenting Teens Through Spring Break. Since it's a time of life full of discovery, danger, and a wisdom deficit, parents need to step up and get the conversation flowing with their teenagers!
How can we get young people ready for independent events, whether it's a missions trip to Guatemala, camp this summer, or (God forbid!) a weekend in Vegas? What's a mom to do?  It's not a new question. The Psalmist asked in Psalm 119:9.  "How can a young man keep his way pure? By guarding it according to your word."
When it comes time to let our kids venture out on their own (getting US & them ready for the future!), we can still influence them. We can help kids keep their way of life pure and live it like God's word instructs. It's all about the packing.
Tips for Packing a Heart    We make sure they have money, sunscreen, rules, and air in their tires, but how about more significant supplies?
Prayer – on your own and WITH them before they leave
Spiritual food – Give them a gift to feed their mind and heart. Jeff just gave our kids a copy of Not a Fan by Kyle Idleman. I love to give great missions stories like Peace Child by Don Richardson.
Fast – How badly do you long for your kids to guard their way? Fast intentionally about their need for wisdom and growth.
Music – Be sure they have spirit-filled music to listen to that will steer their thoughts. This makes a great trip gift.
Reminders – Be discreet, but don't hesitate to send a text, tuck a note, or pack a little gift conveying "Praying for you" or some carefully chosen Biblical words of blessing.
Memorize – Challenge your student to memorize a verse in anticipation of time on their own. If your children are young, check out these tips from Do Not Depart about how to memorize with kids.
Tips for UNpacking a Heart    When their time away is over, it's easy to focus on the laundry, any money that's left, and other "clean up" tasks. Take time to unpack their heart.
Listen – to their stories about what was fun, what excited them, what they discovered, and what inspired them. Resist the urge to correct, gasp, or reprimand here. Just listen.
Look – If they have pictures, sit down and look at their pictures. Let them share the details. Learn about your changing child by seeing events through their eyes.
Serve – That mountain of laundry won't do itself. A wise mom lets her child learn the valuable journey piece of "cleaning up," but she'll reinforce the love bond if she helps.
"How can young people keep their way pure?"  It's a great question to ask when kids venture out on their own. Let's help them pack their hearts for the journey.
Julie Sanders
and her husband just relocated from the land of sweet tea to the Inland Northwest. The mom of two college students, Julie loves mentoring women around the world, bringing justice to the vulnerable, and teaching God's truths for life. Julie was blessed when seasoned moms walked the marriage and motherhood journey with her and is grateful "grace abounded much more" (Rom. 5:20) than her failures. She is passionate about fighting human trafficking and is the author of Expectant: 40 Devotions for New and Expectant Moms. Join Julie at
Come Have a Peace
, on
Facebook
,
Twitter
, or
Pinterest
,
and don't miss
Marriage Mondays
. She invites you to
contact her about speaking
at your women's event or mommy meeting.
www.juliesanders.org
Latest posts by Julie Sanders (see all)