November 25, 2014 By Julie Sanders Leave a Comment
How far is the distance between your parenting expectations and your reality? Becoming a mom has a way of surpassing and squashing our expectations at the same time. It's a weird and wonderful thing, this journey of growing into a mama. For those just starting out, it helps to have a guide for growing your own life while growing your family. EXPECTANT, 40 devotions for new and expectant moms, is that guide.
Whether we join the adventure biologically or through adoption, experience has a way of changing our expectations. Honest moms who can remember will admit to announcing they would never use TV as a babysitter, never let a child play with (or suck on?) a cell phone, and never host a food fight in a restaurant. But then we receive our children from God's sufficient and slightly humorous hands, humbling us and showing us how much we have to learn. We find that being a mom is as much about giving grace to our children as it has been about receiving it as a woman.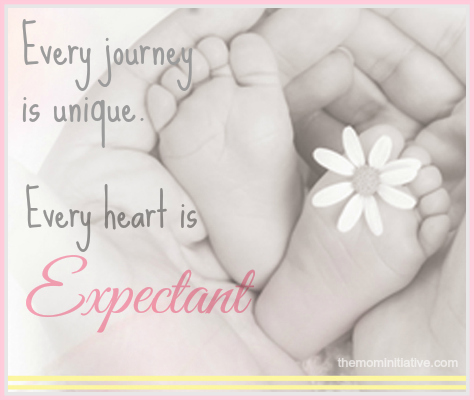 God has a tender heart towards moms balancing their young ones, and He promises a gentle leading when we need it most. After all, most of us could park a mini-van in the space between our expectations of being a mom and the realities! God's word has hope for the heart of an expectant mom.
"He will tend his flock like a shepherd; he will gather the lambs in his arms; he will carry them in his bosom, and gently lead those that are with young." (Isaiah 40:11 - ESV)

Every journey into motherhood is unique, and every mother's heart is Expectant. The 40 practical devotions tackle real issues like changes in your body, your marriage, your work, and your schedule. Expectant helps new moms think through necessary transitions to find hope and confidence right there on the changing table or playground. Moms say this devotional should be read before the baby arrives and AGAIN, after the baby arrives!
Sections for You, Other Grown-Ups, the Baby, and Your New Normal
Biblical wisdom for every mom's real needs
Short passages of scripture, just right for when you're feeding or before you fall asleep
Questions to use with a friend, partner, or small group
Holding on to Hope author Nancy Guthrie says, "In Expectant, Julie Sanders is somehow able to capture the realities of real-life pregnancy and motherhood without crushing the wonder of it all. Filled with insight and wisdom, this book will turn nine months of growing bigger into nine months of going deeper with God, preparing you to be the godly mother you really want to be."
Do you have a new mom or a mom-to-be on your Christmas list this year? Look for ways to encourage her heart and help her on the new and unfamiliar journey of motherhood.
Stop by to pray with her and give her a hand massage
Clean her house for her as she gets close to "go time"
Send her a card with scriptures assuring her of God's gentle care
Ask her how SHE is doing and how she feels in her heart
Choose a gift book like

Expectant

to feed her spirit and soul
In this season of giving thanks, let's celebrate knowing that every journey into motherhood is unique, and every mother's heart is Expectant.

Like a lot of babies, EXPECTANT is a little overdue It is available NOW for pre-order through Barnes and Noble or as an ebook through Amazon. Look here for news about the anticipated arrival of EXPECTANT on December 1st.