October 25, 2014 By Debbie Taylor Williams Leave a Comment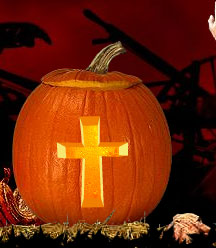 Standing beside mama, I watched with wide eyes as she took a kitchen knife and cut a circle in the top of a bright orange pumpkin.
Carefully, she lifted the top off and told me to look inside. Standing on tip toes, I peered into the pumpkin. "It's yucky," I announced.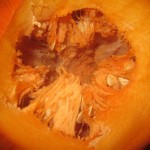 With even more interest, I watched mama pull out the gooey seeds while she explained, "We have to clean the inside so we can place a candle it."
After several minutes, Mama was satisfied. "Now, we will make a face on the pumpkin."
Taking a pen, she drew two triangle eyes, an upside down triangle nose, and a big smiling mouth; then took another knife and carved the face.
Turning to me, she asked, "Do you want to put the candle in it?" Jumping at the chance, I carefully reached into the pumpkin and placed it in the center. When Mama lit the candle, I was fascinated at the transformation. The lifeless pumpkin now smiled at me with a glowing face.
For Christians, October 31 can be much more than a day of too much candy and ghosts and goblins. We can bring Christ into the day in a memorable way.
Which of the following might you do to point your children to Jesus on Carve a Pumpkin Day?
If your child wants to wear a costume, choose a Biblical character or animal. Talk about that person or the animal God created. Or, help your child select a positive role model like a fireman or character of good influence. Discuss how that person or character is kind and that it pleases God for us to be kind. Share from Ephesians 4:32 "Be kind to one another."
Cut pumpkins out of orange construction paper and print "Be kind to one another" on them. Tape a piece of candy to the pumpkins and let your child hand them out to family and friends during the day.
If you haven't yet selected a pumpkin, take your child to the store and let them help you select one. As you look at the various sizes and shapes, discuss how each pumpkin is special. Tell your child, "You are special to God."
When you get home, let your child help you wash the pumpkin. After cutting the top off the pumpkin, let them see inside the pumpkin and how it, too, needs to be cleaned. As you clean the pumpkin, explain that Jesus cares about us on the inside, too; not just the outside. That's why we pray and ask God to forgive us when we do wrong.
Help your child draw a happy face on the pumpkin. Carve out the eyes, nose, and mouth. Let your little one place a candle in the pumpkin. When you light the candle, explain that just like the candle shines through the pumpkin, Jesus wants to shine through us. Every day, we can pray and ask Jesus to shine through us. Pray with your child, "Jesus, please shine through me." "Let your light shine before men in such a way that they may see your good works and glorify your Father who is in heaven," Matthew 5:16.
Direct your child to the pumpkin seeds. Let them help you wash and roast them.
As an alternative to trick or treating, attend a church "Harvest Fest" so your child can safely enjoy the company of others. Remind them, "Jesus likes it when we come to church."
When you return home and tuck your little one in bed, you can know that you've done much more than participated in Halloween or Pumpkin Carving Day. You've infused your child's mind and heart with Jesus. Now that's something to glow about.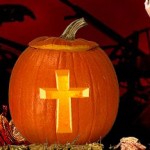 Debbie Taylor Williams, Spreading the Word & love of God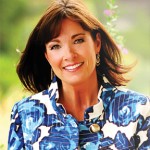 READ MORE by Debbie Taylor Williams: * Marriage & Parenting Tips * The PLAN A MOM in a PLAN B WORLD. FIND DEBBIE ONFACE BOOK,TWITTER, PINTEREST.