July 6, 2015 By Stephanie Shott 2 Comments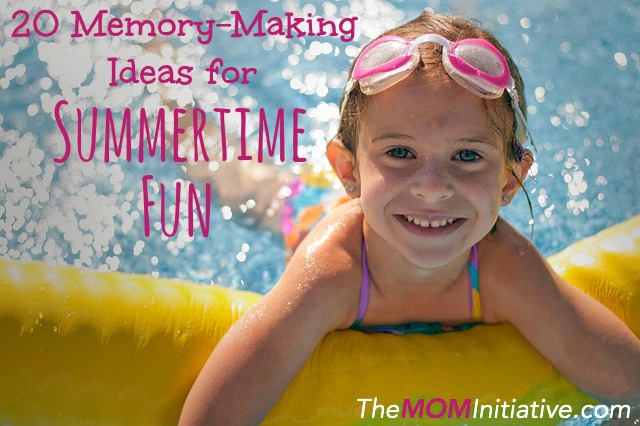 "There is a time for everything, and a season for every activity under heaven" Ecclesiastes 3:1
I love the summer! How about you?
Everything is alive and lively. The days are longer, the air smells sweeter, the kids are out of school and it's time to play!
Unfortunately, when my children were young, I often found school was knocking on the door of our summer fun before we really got to enjoy the season that seemed to all-too-quickly slip through our fingers.
Making memories with our kids means we have to intentionally plan our days; purposely putting some things on the back burner and giving up certain daily routines and replacing them with some family time.
Below is a list of 20 ideas that might spark your creative fuel. You can also go to your city's website and look at the calendar of events. If you don't find one, go to one of your local television station's websites. You should be able to find out what's going on in your town through one of those outlets.
So grab the family, the camera and a smile and get busy making memories!
Oh… and check out our FREE RESOURCES for to help you make YOUR SUMMER FUN & MEMORABLE!
1. A DAY AT THE ZOO – They are normally inexpensive and if you're on a budget, pack your lunches (and drinks) in a cooler.
2. A JOURNEY TO YOUR LOCAL PARKS – Map out a few of the parks in your local area and see how many of them you can hit in a day. Take pictures at every park you visit. Pack your lunches (and drinks) in a cooler and have a picnic in the park. Stop by the store, develop your pictures and when you get home make a fun family timeline of your exscursions with your pics.
3. A DAY AT THE MUSEUM – Take the family to the museum. Enjoy taking pictures in front of the attractions. To make a day of it, take your lunches (and drinks) in a cooler.
4. THEME PARKS – Most towns have some sort of theme park within a three hour radius. Save up and take the family to one of the theme parks in your area. Again, you can pack your lunches (and drinks) in a cooler and save money by eating outside of the gate. The walk back will give you enough time to enjoy the rides when you get back in.

5. PLAY TENNIS AT A LOCAL PARK – You may not be able to join a team, but many parks have tennis courts where you can play for free. If you don't know the rules, you can either take the time to learn them or just do what I do – make them up as you go.
6. HAVE FUN IN THE SUN – Spend a day at the beach, lake, river or pool in your community. Be sure to pack your lunches (and drinks) in a cooler. Contrary to popular belief, sun is good for you. So get out there and absorb all the vitamin D you can…just don't get a sunburn – and use sunscreen, especially if you're fair skinned.
7. VBS OR BACKYARD BIBLE CLUBS – Be part of making an eternal difference in your kid's and other kid's lives. If your church doesn't have anything going this summer, ask if you can help at another church and let your children join the fun there. You may want to put on your own backyard Bible club to reach out to your neighbors. Ask some families to help you and make your neighborhood your mission field.
8. TAKE A HIKE – Many towns have a natural habitat area that offers hikes and exhibits. You'll not only want to take your lunches (and drinks) in a cooler, but you'll want to take your binoculars too.
9. GO CAMPING – That's right…tent and all…take your kids for a good, old fashioned camping trip. Hotdogs on the grill, marshmallows over the fire and all the mosquitos you can imagine. There's really nothing like it!
10. BIKE RIDING – Go on bike trail and enjoy the ride. Stop, smell the roses, hang out and enjoy the lunch you packed (with drinks) in the cooler

11. SKATE-BOWL – That's right! Go skating and bowling all in the same day. Kind of a marathon fun day.
12. TAKE ME OUT TO THE BALL GAME – Go to a major or minor league baseball game. Hoot and holler for your favorite team together. Don't forget to eat all the hot dogs and pop corn you can!
13. GO FISH – Take your family on a fishing trip. If you can't bait your own hook, tell your son it's time he learn

OR just use the fake stuff. You'll have fun whether you catch anything or not.
14. INDOOR GAME DAY – Plan a day for indoor games. Get a few families together or just hang out with your own family and spend the day playing games. Board games, card games or make up your own (This time you won't have to pack your lunch).

15. A TRIP TO THE LIBRARY – Local libraries often offer summer reading programs. You can spend the day at the library and join in the activities.
16. DO SOME GOOD – It's always a good idea to look for ways to make a difference in the lives of others. Paint an elderly neighbors house or mow his/her lawn. Work in a local homeless shelter. Volunteer to help at a local nursing home. Find a way to do good – it will do you all good!
17. CRAFT SMORGASBORD – Organize an all-crafts day in which your children can choose from 3 or 4 different crafts that they can actually complete them. There are great benefits to knowing they have accomplished something and being able to hold a tangible object made with their own hands.
18. COLLECT FOOD AND CLOTHES FOR THE NEEDY – Rather than just volunteering at a local homeless shelter, make it a family project to collect food and clothing for a homeless shelter or for needy families.
19. INDOOR PLAY FACILITIES – Spend the day at an indoor play facility and enjoy playing with your children without the sweat and regardless of the weather. Great option for fun for the family and memories you'll be glad you made.
20. GO HORSEBACK RIDING – Take the kiddos to some local stables where they can ride the horses and spend some time enjoying nature. It'll be a time they will never forget… and that's the point, right? 😉
So there you have it…a few ideas to intentionally plan the upcoming days with memories instead of wasted moments. (If I could do it all over again, I'd schedule two or three activities a week.) Don't forget your camera for all your events so you can decorate your home with the memories you make. Dedicate a wall for your summer pictures, cover your refrigerator with the fun-filled photos. Whatever you do…make memories…intentionally.