July 22, 2014 By Melissa Mashburn 2 Comments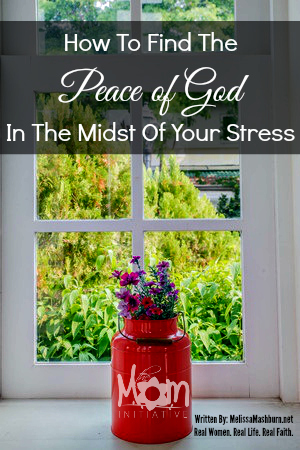 And the peace of God, which transcends all understanding, will guard your hearts and your minds in Christ Jesus.
Philippians 4:7 NIV
Oh sweet mom, is it me or does it seem that there are things pulling at us from just about every angle of life these days.
It's either the kids, our spouse, the job, our ministry, our friends, our finances, or even our health, sometimes all at the same time.
It's enough to make you feel like that mom from the Incredibles movie, what's her name…ElastaGirl?
The problem with that is that we aren't ElastaGirl, and she's not real, so we can bend and move but eventually something will break or fall.
I love what it says right before this verse though, because we need to be able to find the peace of God in the midst of our stress.
"Do not be anxious about anything, but in everything, by prayer and petition, with thanksgiving, present your requests to God." Philippians 4:6 NIV
Ok, now it's starting to make a little more sense. Do not be anxious about anything; problems, stresses, kids, finances, health issues, and the marriage…everything. All of it. The good, the bad, the ugly, give it all back to God through prayer and petition.
Then, when we do,we will receive the peace of God.
And the peace of God, which transcends all understanding, will guard your hearts and your minds in Christ Jesus.Philippians 4:7 NIV
Do you mean that by giving all that "stuff" over to Him we will actually have peace? Yes!
Do you mean that by praying about it we will begin to have peace? Yes!
Do you think that is possible for you and me? Absolutely Yes!
Well, what does that "peace of God" look like?
I went over to my friends at Dictionary.com to look up the word peace and here's what it says;
- a state of mutual harmony between people or groups
- a state of tranquility or serenity:
- a state or condition conducive to, proceeding from, or characterized by tranquility:
Then I took it a step further and asked Dictionary.com to define for me the "peace of God" and guess what, there were NO results for "peace of God".
Is that surprising?
No, not really, especially since it says right there in the verse that the "peace of God" transcends all understanding.
I love that we don't have to completely understand it but can accept it as the gift that it is.
At the end of the verse it also says that the peace of God will guard your hearts and your minds in Christ Jesus.
This is actually a beautiful thing for us because it says that even in the midst of our stress that not only will you have peace from Him but that He will guard your hearts and minds while you still try to figure out all the other stuff.
Let's face it can be tough to have peace when everything around you is pulling at you at the same time, but when you present your requests to Him, lay them down, and accept the gift of the peace from God, then you will be able to rest in knowing that He is there with you every step of the way.
So, let's get practical.
What do you need to take before Him right now so that you too can have the peace of God?
______________________________________
Time is ticking and BETTER TOGETHER will be here before you know it!
We've had women contact us who really want to go but who are on a very tight budget. WE DON'T WANT FINANCES TO STAND IN THE WAY!
So…
If you're a SINGLE MOM, HOMESCHOOL MOM or MOM who is dealing with financial restraints, BETTER TOGETHER has been made available FREE FOR YOU because of the generous contributions of our Corporate/Ministry Sponsors.
To get your ticket ALL YOU HAVE TO DO is email us at info@themominitiative.comand request a FREE TICKET!
With 20 speakers and 45 workshops that are designed to meet each woman in every age and in every stage right where she is.
This will be a weekend you won't forget and we don't want finances to be an issue! HURRY AND REGISTER TODAY FOR BETTER TOGETHER
July 31st – August 2nd
Jacksonville, Florida at Trinity Baptist Church

Registration Information, Location, List of Breakout Sessions, Descriptions of Workshops, Conference Speaking Team, Better Together Conference Flyer, Better Together Bulletin Insert (Full Color), Better Together Bulletin Insert (Black & White), Better Together Conference Cards (Postcard Size)