July 24, 2014 By Heather Riggleman 1 Comment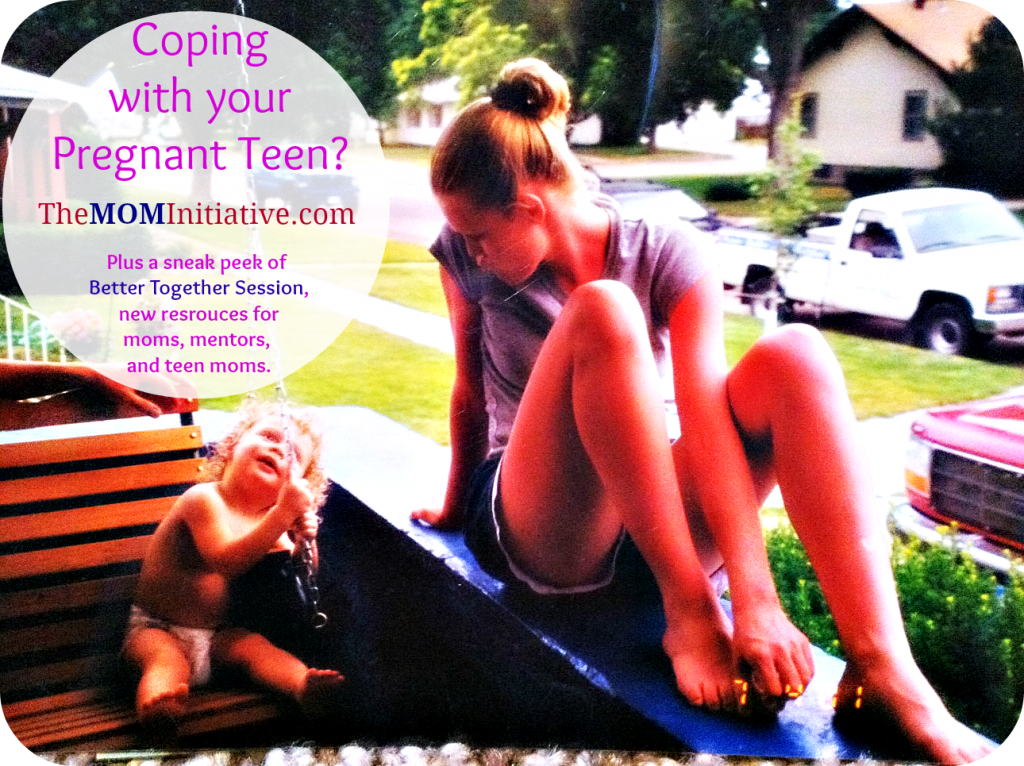 This wasn't the part of the plan. You and your daughter were planning for high school graduation, but now you're trying to get used to the idea that she is going to be a mother. You're both trying to sync schedules around baby. How exactly will she do this mom thing and how do you help her?
It happened to me. One day I was cheerleading for the football team and the next–I was fighting with my mom, feeling oh-so tired and scared as I held a positive pregnancy test in my hands.
What did my future look like?
What about my boyfriend?
What about college?
What is everyone going to think?
What about my mom? She can't take care of me and my five siblings?
Even though my mom couldn't bring herself to talk to me after she learned I was pregnant, her questions mirrored mine. My mother was filled with mixed emotions she tried to process the news and grieve the plans, dreams, and life she had for me. At the same time, I was trying to adjust to the idea of high school with motherhood. And what about college? What about the rest of my life?
How We Got Through It — A Pep Talk for the Soon To Be Grandma
Once the initial shock wears off, you and your daughter need to grieve the dreams you both had but remember life is not over. Instead, it's time to dream of the new life being formed inside your daughter and what is best for baby. Open adoption or raising baby–either way, you both will need to dream new dreams and look at the future in a new way. Here are a few tips to help create a support network for you and your daughter.
Seek Counsel –godly counsel. This can include speaking with your pastor or to a Christian counselor — someone equipped to provide wisdom and instruction as you deal with the emotions and disappointment you may be experiencing.
Mediation – Professional counsel does more than just help you process; it also provides mediation between you and your teen as you clarify the decisions she will need to make
Pray with her, asking God to guide her as she makes decisions regarding this baby.
Accept a New Reality. As this new reality settles in, keep in mind your baby girl is hurt, frightened and needs your acceptance. Assure her of your love and your commitment to help her through this difficult time.
New Dreams. It's okay to grieve the dreams you had for her, give yourself a chance to grieve and then begin dreaming of a new future with her. Sit down with your daughter and ask her what her dreams were, how can she achieve them now? How can you help?
Set Boundaries. As much as you want your daughter to succeed, you will need to create new boundaries and discuss them with your daughter. For example, even if the father of the child wants to be involved, it is NOT okay to continue a sexual relationship. Even if your daughter has class and work, it is not okay for her to expect YOU to get up at all hours of the night. Take these things into consideration and talk about how you can support your daughter and grand baby in a healthy manner.
Let her grow up. She may be 15, 16, or 17; not quite an adult but she is a mom. Let her be a mom, when you see she is struggling to get baby to stop fussing, it's great to offer her advice but try not to take over. She needs to learn what her baby needs but she still needs you for encouragement, advice, support and to be her biggest cheerleader.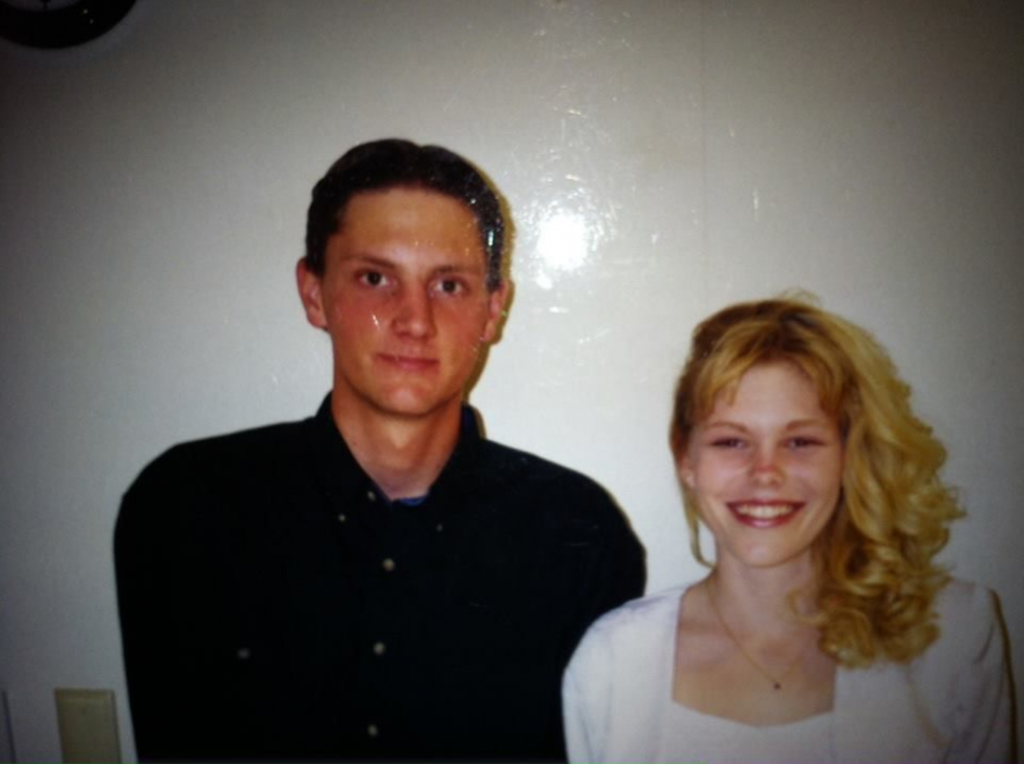 Teen Mom – OWN IT – A Pep Talk 4 U
Everyone told me there was no way out. I wouldn't graduate High School, I wouldn't go to college. Chris (the father) would leave me. I wouldn't have a good life or a great future. I heard it over and over.
But I thought, Why do I have to fail? Why can't I make a life as a teen and a mom? Something in my soul shifted, it was as if I felt God nudging me and saying, I have a plan and you can do this. It was if he was taking this failure and creating a successful, bright, beautiful future.
So little mama, here is your pep talk!!
Failing is when you learn a million ways not to do something. Moving past failure is when you use the lessons you learned and finally find the right way.
Yes, you made a mistake. Yes, there is a mountain looming in your path right now—and it's steep and fraught with snowstorms and rocky paths. But it is not insurmountable. I want to encourage you NOT to look at that mountain—steep as it is—and simply resign yourself to staying at the bottom.
Start climbing! It's what you do now that will make all the difference.
You have two choices as you step off of your planned path and onto this detour: you can put your car on cruise control and let this mistake destroy your dreams and be a not so great mom, or you can grab the steering wheel and drive over the mountains to see what's on the other side. I get it: being a teen mom is messy, tough, and overwhelming. But it's also wonderful and empowering.
You can ensure you are the best mom possible.
You can make a pit stop on this detour to make it to your dream career or even college.
You can take responsibility for you and your baby.
You can change your attitude about your view of motherhood.
The key to moving forward is adjusting your view of not only change, but failure also. The key to this new story is YOU.
In the big picture, it doesn't matter what is going on in your life compared to others. What matters is how you respond. If you respond with self-pity and "Why me," these will be some of your worst days. If you respond with, "I can do this; it may not be fun but I can try," life will get better—not all the time but it does help decrease the stress.
So say a prayer and grab a pen. Answer these questions:
What do I want to be when I grow up?

How can I achieve my dreams?

College or work?

What kind of mom am I going to be?

Where can I go for help?
Coming soon – a book for teen moms and a leader's guide for mentors and a website dedicated to encouraging and equipping young moms. www.detour2motherhood.com. About Detour: Together with Erin MacPherson (Christian Mama's Guide), Heather just finished writing Detour: Surviving (And Loving Life as a Teenage Mom) and is putting the finishing touches on the Leader's Guide created for churches, small groups, MOPS groups, crisis centers to encourage, equip, and mentor young moms. Our thoughts are this, "When we support young moms, we can the power to reach the next generation for Christ!"
Sneak Peek of the book.
Introduction – Detour: Surviving (And Loving) Life as a Teenage Mom
Some little girls dream of having a big brick house with a giant swirl staircase, a white picket fence, a husband that looks like Ken, and (of course) a cool hot pink convertible to drive around town. Some girls I knew in school even had names picked out for their 2.4 children and big plans to adopt an orphaned Labradoodle. But not me. I wanted to be a lot of things—an attorney, a professor, a journalist, maybe even the CEO of some big company somewhere—but being a mom wasn't even on my radar.
I was talented in arguing my point (ask my mom). I knew what I wanted and knew what I needed to do to make it big. She used to tell me I was born screaming orders at the nurses. And, while I did occasionally dream of prince charming (what boy crazy teenage girl doesn't?), I figured my prince charming would fit in the picture after my happily-ever-after had already happened. I had better things to do, like go to college and make money so I could buy my first pink convertible.
Everything was planned—or so I thought.
But all of my best-laid plans came crashing to a halt on February 9, 1999. It was one of the worst (although in hindsight, one of the best) days of my life. For weeks, I had thought the reason why I was so tired was because my mom and I were not getting along. I figured the emotional stress coupled with the fact that I had dropped out of cheerleading was leaving me drained, tired, and cranky. But the tiredness nagged me to the point that my sweet Grammie noticed and dragged me to the clinic to find out what was going on. We both walked into that appointment thinking I had probably contracted something that was going around at school. Neither of us expected those two pink lines.
I brought the test home, still not believing it. I remember twiddling the test around, staring at the tiny plastic stick that symbolized my new reality. I couldn't wrap my head around it. How could I—the girl who had all of the big dreams and even bigger plans—be pregnant? What about what my doctor told me when I was fifteen and having horrible cramps, he said I would never have kids on my own, so now what? As I laid on my bunk bed, staring at the test, other thoughts spun in and out of my head. What about school? How was I going to hide my blossoming belly? Would my friends ditch me? What about college? What about the house and the car and the swirling staircase and the golden retriever? My life was over. Or so I thought.
The future I had dreamed of since childhood started to blur. The college degree, the Cinderella wedding, the exotic vacations, the plaques from my accomplishments, even the house with the white picket fence where I would sit sipping lemonade with the man of my dreams snuggled up next to me on a porch swing. All of it faded away. And a new picture started to emerge.
I was 17. And pregnant.
My dreams had suddenly taken a very sharp detour. The dream-lined path to college and beyond was suddenly uphill and fraught with tough decisions. And the tiny life inside of me suddenly beckoned me more than the plans I had so carefully laid.
Questions rolled through my head:
How was I going to take care of my baby when I still needed to finish high school?

Was my relationship with my boyfriend going to survive this?

What would my friends think? Would people still want to hang out with me?

How was I going to make my paycheck stretch to pay for diapers and bottles, much less than new dress I had been eyeing at the mall?

Would I ever be able to go to college and get that degree I had been dreaming of?

Would my parents forgive me and embrace their grandbaby?

Would my life ever be the same?
Everything changed for me that day. I went from confidence and exuberance to loneliness and guilt. My entire perspective shifted. I went from wondering where I was going to go after the game on Friday night to wondering how I was going to raise a baby who would depend solely on me and the choices I made. And while I'm by no means a perfect mom who has all the answers, I do understand how it feels to walk down the detour of teenaged pregnant.
And I hope that my experiences—the good, the bad and even the ugly—can help you to survive and thrive in your own detour. I want to partner with you to help you through these next months—to show you how you can embrace your new reality in a way that's healthy for both yourself and your baby. Because I know from experience that no matter how you are feeling right now, you can, in fact, trudge down this road to reach a different, but equally happy future on the other side.
Other article resources:
The Mom Initiative - Dealing with your Pregnant Teen
Thriving Family - Coping with Your Pregnant Teen
Today's Christian Woman - Is Your Teen Becoming a Parent?
Visit Erin's Blog: Christian Mama's Guide
Don't forget to grab a copy of Stephanie's book, The Making of a Mom. It has my story in it plus hundreds of ways it can help grow you and your daughter as moms.
To connect with Heather on the Detour
Facebook page: Detour to Motherhood
Pinterest: Detour to Motherhood
Coming soon: Detour2motherhood.com
______________________________________
Time is ticking and BETTER TOGETHER will be here before you know it!
We've had women contact us who really want to go but who are on a very tight budget. WE DON'T WANT FINANCES TO STAND IN THE WAY!
So…
If you're a SINGLE MOM, HOMESCHOOL MOM or MOM who is dealing with financial restraints, BETTER TOGETHER has been made available FREE FOR YOU because of the generous contributions of our Corporate/Ministry Sponsors.
To get your ticket ALL YOU HAVE TO DO is email us at info@themominitiative.comand request a FREE TICKET!
With 20 speakers and 45 workshops that are designed to meet each woman in every age and in every stage right where she is.
This will be a weekend you won't forget and we don't want finances to be an issue! HURRY AND REGISTER TODAY FOR BETTER TOGETHER
July 31st – August 2nd
Jacksonville, Florida at Trinity Baptist Church

Registration Information, Location, List of Breakout Sessions, Descriptions of Workshops, Conference Speaking Team, Better Together Conference Flyer, Better Together Bulletin Insert (Full Color), Better Together Bulletin Insert (Black & White), Better Together Conference Cards (Postcard Size)